In the weeks leading up to NAMT's "Songs of Summer" concert at Joe's Pub, we caught up with Olivier Award-nominated Music Director, Arranger, Composer and NAMT Festival artist Andrea Grody as she mused about music. Photo by Jacq Harriet.
NAMT:
Describe your earliest memories of music.
Andrea Grody:
I've always been a storyteller through music. I spent my childhood with my twin brother making up songs—the game was that one of us would give the other a word and we would have to create a song based on whatever that was. I remember doing one, you know, "The Wart Blues," because the word was "wart," which was very funny to a six-year-old. I started piano at age five, shout out to my piano teacher Sima Brodsky, who was my teacher from then through the end of high school and is responsible for much of where I am now considering what I do. I also touched on violin and viola over the years. Guitar showed up in high school.
I wrote my first piece of music probably around age nine. I'd been making up songs, but that was the first time I wrote something down. The first Broadway show I saw was Beauty and the Beast, but I don't remember it. I do remember my second Broadway show, which was The Phantom of the Opera, and I loved it! I was a choir kid, I went to local community theater camp, there are so many stories. I spent the last three years of high school going to a composition camp called the Walden School, which was a really special place to develop as an artist. It encourages people to find their own voices, and I grew so much in my three years there.
NAMT:
What was important in deciding where you wanted to go to college?
AG:
I didn't want to go to a Conservatory because I had too many interests beyond the arts. I considered being an engineer. I loved Physics in high school. I was a Math and Science kid… it's all the same. Math and Music are very similar. I took several genetics classes in college. I was interested in schools that had strong music programs but that were not Conservatories. I went to Princeton, but it was not my first choice. Princeton has a strong composition program, and it worked out for me in ways that I couldn't have known until I was there.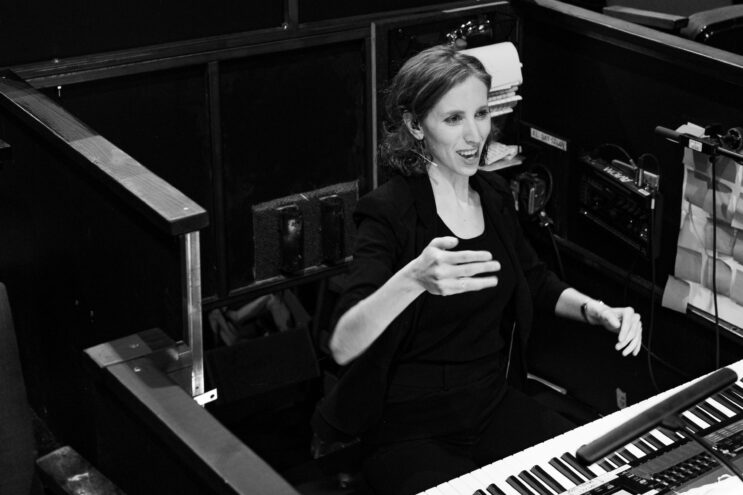 NAMT:
When did you first feel truly recognized as a professional in the musical theatre field?
AG:
The first moment I remember thinking, "Wow, I've made it," was when I was in a rehearsal room and there was a label on a mug with my name on it. <everyone laughs>
"Professional." That's an interesting word because "professional" is just about being paid. I was getting paid, but another benchmark for me was when I felt like I could call myself a Music Director. At the beginning, I didn't feel comfortable saying I was a Music Director because I was getting Music Assistant work, as I was calling it at the time. Then I hit a point where I realized if I describe myself this way, I'm not describing how I want people to see me. So, I had to change my language and say, "I am a Music Director." That's who I am. If you want to give me a job, that's what you should be looking for.
But it really took someone else seeing something in me. I was getting Associate MD work, but I only had two Associate MD jobs before I got a phone call about the biggest job that changed my life, which was music directing for The Band's Visit. I was reached out to by a colleague who had been a Contractor on a show where I was the Associate MD. I was 26, I was sure I would never get the job. I was nowhere near experienced enough. And after we talked for a couple minutes, I said, "if the MD gig doesn't work out, do you think there would be an Associate MD gig?" And he said, "I don't think you're an Associate anymore."
That was a huge moment for me, the first time I saw myself beyond where I had been placing myself—where I'd been making a path and someone said, "No, you're further than you think." I will never forget that moment of receiving that language and rising to what someone else saw I could be. The process of that show was rising to what someone saw I could be. And I had it in me. I really try to be that person for other people now.
The parallel story to this: the most heated language is when I first called myself a good pianist. I did not call myself a good pianist until well into the run of The Band's Visit on Broadway when I was playing and conducting a Broadway show. Not until I was pretty far along into it. Because I know the really amazing pianists.
I'm a good pianist—I can say that now, but I didn't feel comfortable when I got the job. I was sure that the first time David Yazbek heard me play, I would get fired because I didn't trust that I was up to that level. But, I realized this is what it is to be in this position. Here I am, doing it. I don't have to be somebody else. Also, I can see that this is enough. I am enough where I am, and I will continue growing.
And what I have is a strong storytelling instinct and energy and commitment and joy. When I started working professionally, I told myself I needed to tamp down on my enthusiasm because I felt it made me seem immature and unprofessional. When I got to a high level, I realized that my joy is my greatest asset, and it's actually one of the best and most unique things about me. If you bring that energy, it's surprising. Honestly, surprise is a valuable attribute because if you catch someone off guard, they're more attuned to what's going on. This is the challenge of being a young artist. And you can only feel confident when it's not just about what you want, but how to include the people around you. That's what makes a great collaborator.
NAMT:
At what point did you become an educator?
AG:
I've always been an educator. When I was in school, I would pull people aside in Choir and work on something on the side. I was an Assistant Music Director when I was 14, coming in to help people learn. I conducted the choir when I was in high school. It's all the same thing. I want to teach, so it's always been there. Music directing is also educating, especially with how musical theatre works. The first thing we do is come in and learn the music together, plunking out the notes and being very present with someone's learning process. That's straight-up teaching.
I was interested in vocal pedagogy when I was in grad school because I'm a science person, but I didn't have the tools that I wanted when I left grad school. So, I came to New York Vocal Coaching, where they have a voice teacher training program. Justin Stoney, the head of the studio, I learned a million things from him. And three weeks into the course, he offered me a job at the studio. I've been teaching there for eight years, and once I got to a point where people were interested in hearing what I had to say, I started teaching workshops, which felt natural because that's what I do anyway when I'm in the rehearsal room.
It's funny going into those classes once you've done this for a little bit, because suddenly you realize, "I have, in fact, learned some things," when other people respond, "Whoa! I've never heard that before." And I can remember six years back when I hadn't heard that either. But that's how teaching happens, is that you learn something, and you get to be the one to share it with someone who hasn't heard it yet. And then as time goes on, I learn things from each workshop that I can offer in the next.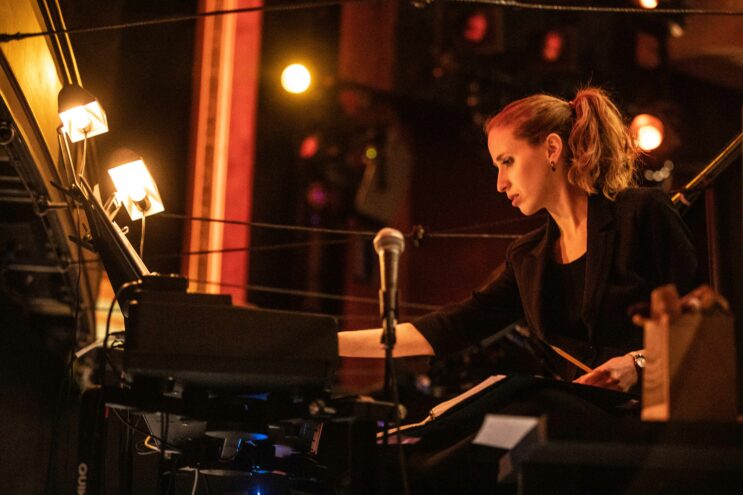 NAMT:
What trends do you see emerging in the field?
AG:
There's a lot of breaking of trends. A lot of writers who crossover between worlds because it's so easy to access music-making now. You get people who find different paths to music who are also interested in stories. This is why everyone, wherever they are, ends up coming to Musical Theatre. We're coming because there's some allure of that sharing of space. It's bringing so many interesting people, this combination of music and story. I have loved, through NAMT especially, being a part of different writers coming to the field with new instincts. I love working with people who haven't written musicals before and saying "Here's what we've learned in the hundred-ish or so years that musicals have existed in this country. What do you have? Let's find out!" I've been in the room for a number of those conversations happening, and it's been exciting to see our field is growing in this moment.
There are some scary things happening in our industry right now, pandemic aside. The way that technology can take away from live art is difficult. I'm not going to open the door to A.I., but listen to the conversations we have about the number of musicians in our orchestras, and how technology can do a lot, but it will never be live. The dissonance between those statements is challenging, and we've been navigating that for well over ten years. "I've been listening to this record, and it sounds so great—" but there's a difference. Sometimes, that difference is not the artform itself, and sometimes it is.
That's why you see musicals like Hadestown, where musicians are on stage, or Sweeney Todd and Parade! How delightful! Two revivals with big orchestras happening right now. They've made a statement about it, and you hear it, and you feel it in the space. Even though it's not the trend in new musicals, they've become very expensive and that changes the kind of art that people make, but I'm happy to see a turn back toward those trends. Sometimes constraints are valuable and sometimes constraints are just constraints. That's just a thing we always fight against as artists. But from the creative side of what work is coming out, I feel pretty jazzed about what I see emerging.
NAMT:
What do you hope for your students?
AG:
I hope I have something to offer them, and I hope that what they learn is to take what I have given them and run with it themselves. It's a teach-a-person-to-fish situation, I'm not giving anyone fish. I want people to learn skills, to get the seeds that they can tend and grow. And then, there's that moment where your heart sort of tears a little because you let someone go… it's both scary and the whole point of it. That bittersweetness is what life is all about.
What I often tell people when they're looking for a career in musical theatre: there's nothing like performing to a half-empty Broadway house to remind you that what we're really doing is telling a story to one person. There's the big allure of the biggest venues and the biggest reach, and if you can reach a big glamorous-seeming theatre, whatever it is, that's when you must remember the core of what we're doing. One person at a time. I'm speaking to you; and to quote Lisa Kron: "What you give them becomes part of the fabric through which they view the world." When you're feeling down about how the industry is going, remember those moments. It's not about enough quantity, it's about quality. Changing one life is enough.