On a rainy afternoon in both New York & Seattle, we sat down with Neen Williams-Teramachi while they made their last preparations for an upcoming reading of the new musical Yoko's Husband's Killer's Japanese Wife, Gloria.
On a rainy afternoon in both New York & Seattle, we sat down with Neen Williams-Teramachi while they made their last preparations for an upcoming reading of the new musical Yoko's Husband's Killer's Japanese Wife, Gloria.
NAMT:
Thanks so much for meeting with us! Why don't you tell us who you are and what you do?
Neen Williams-Teramachi:
Sure! My name is Neen Williams-Teramachi. I use they/them pronouns, and I'm the Associate Director of New Works at The 5th Avenue Theatre. I am a department of one, but I do have a group of fabulous colleagues that I get to collaborate with sometimes.
NAMT:
NAMT knows a little about your path as a Stage Manager, do you want to tell us more about your path to this role at The 5th?
NWT:
That's a good introduction to how I got involved with NAMT. I was a stage manager as part of the 2020 Festival season with Lizard Boy, which is another Pacific Northwest original. Years ago, I had begun my career as a stage manager, part-time actor, mostly stage manager, and my favorite part of stage management was the artist support part of the job. I loved being able to make sure that the artists had what they needed to tell their stories without having to worry too much about the crunchier administrative things.
I had never considered producing as a path, mostly just because I didn't know what the job actually meant. I had a brief history with The 5th doing stage management work. Kelsey Thorgalsen, who was in my position before me, called me in to work on a 15-minute original musical online with writers who were artists in the community who had been on our stages but had never written a musical before. It was something so interesting and I said, "oh, cool! I am so down for this." And after that first round, I was then invited back. They did five different rounds of it, and Kelsey then offered me a part-time staff position as they were going to continue doing a digital season during the pandemic.
So, I joined The 5th as an Artistic Coordinator, which I don't know what that means, but I had something to do with artists in New Works, which I enjoyed. After that project ended, First Draft was accepting submissions for the next cycle. First Draft is our 18-month commissioning series, our bread and butter. I transitioned over to a full-time staff position as previously called the New Musical Producing Associate, which again, lots of words, not sure what it means. But I had a lot to do with the coordination of our First Draft program, as well as our other ongoing new works programming and making sure the artists had what they needed… and if it sounds like there's a theme beginning, there is.
About four months into my position, Kelsey had another opportunity, and she left The 5th. I've now been in this position from late 2020, which isn't a whole lot of time, but a whole lot of life has happened since then. So, it feels much longer. <laughs>
NAMT:
What other organizations have shaped you as a producer?
NWT:
I would say that Seattle has excellent New Works programs, and my work as a stage manager was also specifically within New Works and new musicals. I spent a lot of time at NAMT Member Seattle Rep. One thing I learned from them was their attention to artist care, specifically with their Public Works department, which I still work with. I also spent time in New York before the pandemic. I was at Ma-Yi Theater Company with their Off-Broadway production of Suicide Forest, which was a natural continuation of my specific interest in uplifting AAPI work. Part of the reason that I love Seattle so much is because I have such a strong AAPI community that I've built here. And… I mean there's a lot of really good food here too. <laughs> But, those values and skills from both organizations really inform my work now, for sure.
NAMT:
Can we talk more about the Pacific Northwest? There's a strong NAMT presence there altogether. What do you think draws musical theatre to that area? What draws that area to musical theatre?
NWT:
I should actually tell you something that I don't think you know about me. I grew up between Sapporo, Japan, and Tigard, Oregon, which if there's any blinking lights in your head, that's the home to the Broadway Rose Theatre Company, who is another NAMT Member. I was a child actor with the Broadway Rose, literally worked with them all throughout my school years, did an internship with them after high school before I moved to Seattle. <everyone laughs> I have always been aware of great musical theatre in the Pacific Northwest.
It sounds silly to say, but it's true: it rains a lot here. And you know what people do when it rains? They stay inside. And what's inside? A lot of theatre. So, it's a fun activity to escape the rain, and there's a huge population of non-artists in the Pacific Northwest who see a lot of theatre. And I also think we're very smart people. Seattle, and Portland too, is a bunch of avid readers, and I think that naturally leads to being interested in plays and supporting authors and playwrights. There's a concerted effort to invest in diverse stories. And they are a little more adventurous when it comes to New Works – I think that is unique to the area. We're a big food city too, and there's a lot of different cultures mixing around. I think that also breeds a curiosity of wanting to learn about different stories. My work as a producer is definitely to feed that appetite and to cultivate a wonderful community of storytellers from our pretty robust playwright population.
NAMT:
It sounds like the answer is "the climate." Like the temperament of the people in the region but also—
NWT:
—literally rain. <everyone laughs>
NAMT:
Talk to us more about First Draft at The 5th.
NWT:
This is something I love. It is an 18-month commission for writers all over the country to develop new works and contribute to the musical theatre canon, especially for writers who have been left out of the canon previously. We encourage supporting brand-new stories from authentic perspectives in an ethical way as well as introducing new voices to theatre professionals and producers to amplify the work that they're doing and what they've previously done.
One of the things I've introduced to the program is a workshop series, so while they are writing, I'm also simultaneously tracking to see where they are in the process and reaching out to teaching artists in the community to come work with these writers in maybe a way that I'm not as particularly skilled in but still want to give them an opportunity to learn and help them. It's a challenge because part of our values for this commission is that we will select writers with varying entry points to theatre, so we've had a couple folks historically through our programs who have never written a musical before and one of their first questions is "ok, how do I do that?" So, I take advantage of the resources that I have by virtue of The 5th, Seattle Rep, Village Theatre, Oregon Shakespeare Festival and more, and the writers get to meet another incredible voice in New Works. We support the idea all the way to a solid first draft.
And then, after a variety of opportunities to go on writing retreats and table reads, they will eventually do a 29-hour reading as a culminating event. We give them the option of anywhere in the US, and most choose New York. It's a great opportunity, the reading is fully supported, and we very strongly believe in paying the artists fairly. One of my favorite things about this process is being able to build the creative teams with the writers. I love connecting. And we do the 29-hour reading and it culminates in a final presentation with an invited audience of whoever they'd like — it's a celebration of the work they've done over the last 18-months.
NAMT:
You mentioned an ethical standard and a value set. Can you talk more about the understandings that define the values for this program?
NWT:
I don't know if it's a real term, but I subscribe to "values-based producing," and by that, I mean there is no cookie-cutter way to be able to do New Works. By virtue of this program, having an ideal development plan usually just goes out the window immediately. For one, we must be of the understanding that these artists have their own various access needs and realities of work-life balance. Theatre writers are not represented by a union, and so I want to make sure these writers are being taken care of and that means spending intentional time working with them and tailoring the program to the wants of their artistic journey. It is the values that are important to me, and they are the overall main tenets of First Draft. Community, artist care, relationship-building.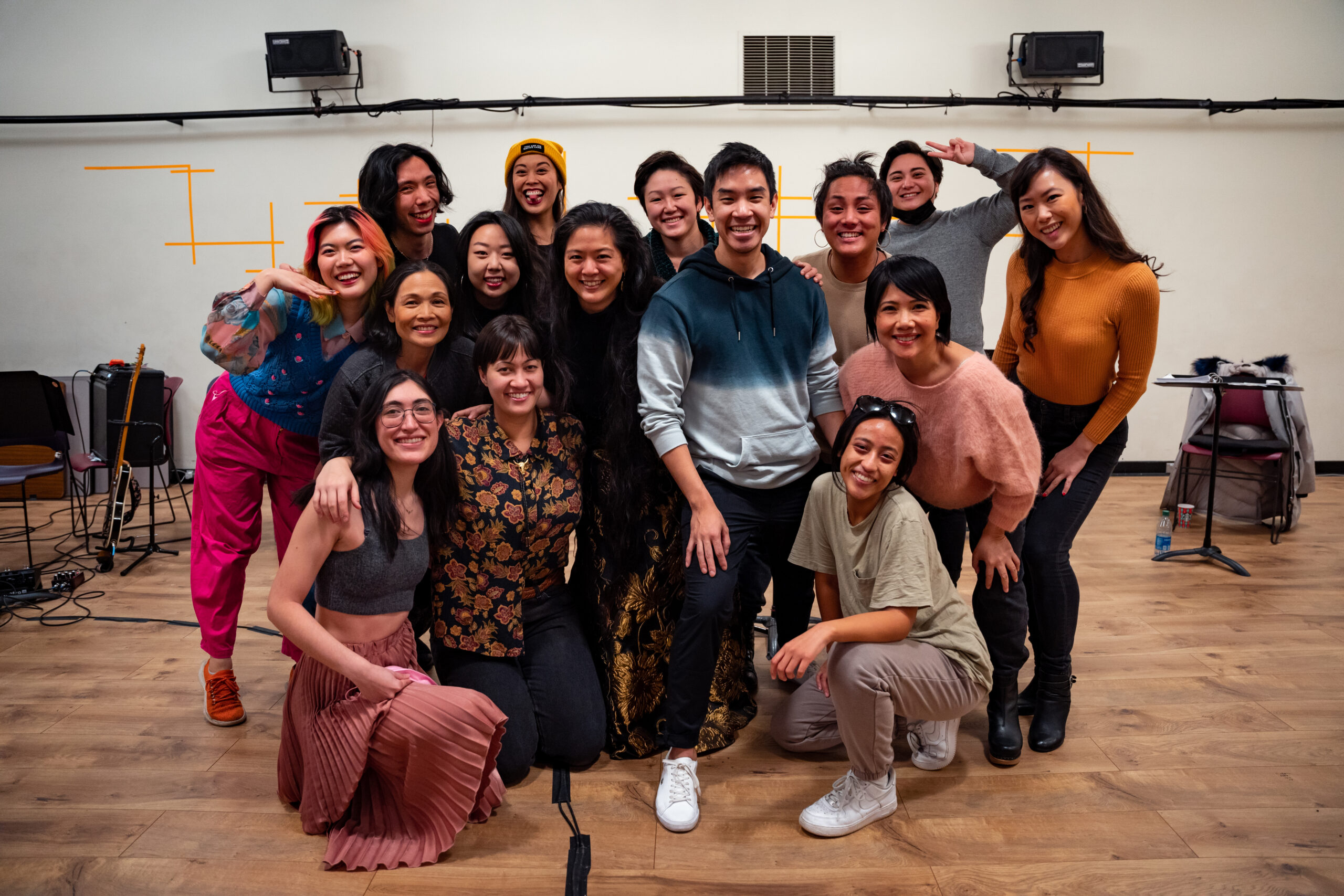 NAMT:
You're doing a 29-hour reading of a new musical with The Civilians. What is it and why?
NWT:
I've gotten so good at saying Yoko's Husband's Killer's Japanese Wife, Gloria that I don't recognize it as unusual anymore. The musical is by Brandy Hoang Collier, Erika Ji, and Clare Fuyuko Bierman. To give a brief history, our reading for First Draft of Gloria was in November 2022. Around the same time, the writers had just gotten the Civilians R&D residency, which also culminates in a 29-hour reading. As a means of continuing our relationship and finding ways of working together, I wanted to make sure all parties felt supported. With some free time between cycles, and with grant support from NAMT's Frank Young Fund for New Musicals, we've spoken with our connections at The Civilians about evolving this partnership between Seattle and New York to continue developing this show.
NAMT:
So then taking the two conversations of values-based producing and the nuts-and-bolts of getting it down, how do you marry those ideas together? How do we take care of artists while doing these machine-like tasks?
NWT:
I think it helps that I have been through this as an artist, and so I know what's annoying and I try not to do that. Part of it is making sure I have all the information before reaching out. And part that I also enjoy is negotiating that the artists feel like they are actually getting what they want out of this. And that's including the artists we bring in who are not directly part of the writing team. That includes the actors, the stage managers, the music assistants and all those folks. One of the things that we would like to offer, and is important for our process, is the community that's built around the show. We want to create a space that is conducive to creating art and creating that community that really feeds the show. So, in my reach-outs and in these drier documents, I'm making sure that the artist is part of every step along the way, and that they're able to communicate their needs along in the process.
NAMT:
Who is in your support system?
NWT:
I would consider Bill Berry, who's our Producing Artistic Director, as my primary support. So, whenever I have sort of big brain questions, I will go to him for insight – as well as our production department. I'm able to talk to them through these contract terms, and I get that as a resource. A thing I'm very passionate about saying is that I do not know everything. I never will know everything. And one of my strengths as a producer is that I do know when to ask for help and who to lean on. Specifically, I'm building this relationship with these writers. They have an internal support network with each other and that's one of the main things that drew me to them — not only are they incredibly talented, very, very funny people, but I feel fortunate to bear witness to that and be a part of that and advocate for that. As a young producer, I will just say, and I'm still learning this, that you really have to think about who you want to be in a relationship with and what does it mean to be speaking with these folks for years to come. When you are building commissions, you're going to spend a lot of time with them, and you want to make sure… are you going to want to share a meal with them? And part of that is building that trust and having shared values. That's it.
Development of Yoko's Husband's Killer's Japanese Wife, Gloria was supported in part by the National Alliance for Musical Theatre's Frank Young Fund for New Musicals- www.namt.org
Yoko's Husband's Killer's Japanese Wife, Gloria
by Brandy Hoang Collier (book), Clare Fuyuko Bierman (lyrics), and Erika Ji (music)