Header: Rehearsal for BLACKOUT at the 34th Annual Festival of New Musicals. Photo by Ric Kallaher.
NAMT's upcoming 35th Annual Festival of New Musicals received an unprecedented 575 submissions this year. As the Spring comes to a close, NAMT Members and colleagues chime in on lessons learned from a competitive year in new musical submissions. Here are your 2023 Submission Tips!
Focus on telling the story. As exciting as the accompanying pitches are for community engagement and marketing opportunities that also come with your show, we want that energy to go into the story and let that be a later conversation if accepted.
For Artist Statements, it's a great exercise to write out why you're telling the story in the first place and who you are as an artist. But also, if you're telling us the key points of what you want expressed in the story you're presenting, make sure to check back in with the artist statement that it aligns with what you've actually written.
Neen Williams-Teramachi
Associate Director of New Works | ART Co-Chair
The 5th Avenue Theatre
www.5thavenue.org
Within the constraints of the application, let YOU shine through. If you try to be all things to all people, you will likely be no one to anyone. Be careful of broad, sweeping generalizations about the gigantic, current themes you are tackling in your work. From what I've seen, a stronger approach is to let the panelists infer the universal from the power of your specific story and well-developed characters. Also, in your artist statement, articulate what drove you to need to write your piece and what you want audiences to get out of it. Then check the state of the piece and objectively see if you are meeting those goals. I have heard numerous panelists say, "I was really excited by the artist statement, but the work didn't live up to the promise."
On the nuts-and-bolts side of things, know that applications are designed carefully, with revisions made each year to make them both easier to follow for writers and more informative for readers. Be sure to answer the questions asked. Admittedly, two (or more!) questions may sometimes sound redundant. If that's the case, and after studying them you still can't discern the differing objectives, ask! There are almost always people ready and raring to answer your questions, whether through a provided email, phone number or designated online office hours.
Betsy King Militello
Executive Director
National Alliance for Musical Theatre
namt.org
Make sure your submitted material is formatted clearly. There are many different "styles" out there for book and lyrics, so you don't have match any specific one (unless the directions specifically ask you to!) – but you do want something that is consistent and easy to read.
Learn how to promote yourself and your work without resorting to hyperbole. There is a big difference between "This musical has a sweeping, romantic score" and "This is the most romantic score you have ever heard!".
Elise Dewsberry
Artistic Director
New Musicals Inc
www.nmi.org
It is important to follow all directions when submitting materials. If you are asked for the first 10 pages, then submit those even if you think the most important event in your show happens on the 12th page. Not following directions can send a message you do not intend. If something is important for you to convey to the readers, then by all means reach out and ask the contact person in advance of hitting send.
Also — it is important to note that something like a first 10 pages submission stipulation is because the committee wants to see what you do with the beginning of your show to engage the reader. So, if there is no exception to that stipulation, it's important to remember that is a bar that is being set for all submissions, not just yours, and is a way for the committee to help themselves evaluate when considering everything that is being read.
If you are asked to select a cut of material on your own, then select what feels best to you and what showcases your work in a way that makes you feel proud. Leave the worry about "what the committee wants to see" aside. They want to see what you feel good about!
When submitting materials, making sure the formatting of your libretto is readable is of chief importance. Strange things can happen when you export from another program to a PDF, so always go back and give the PDF a good look before you hit send.
Dev Bondarin
Associate Artistic Director of Prospect Theater Company
Project Coordinator of The Leah Ryan Fund
prospecttheater.org
leahryanfund.org
If you need to provide an artistic statement and no guidelines are provided, imagine what you'd tell your best friend about why you wrote this show.
Remember that there are HUMANS on the other side of the process. Whatever your frustration with the process — a malfunctioning website, missing a deadline, lack of clarity about a guideline — know that we're dealing with the same thing, often ten or a hundredfold. Above all, we want your show to be brilliant as badly as you do!
Lynn Spector
Program Manager
The Relentless Award
The American Playwriting Foundation
www.americanplaywritingfoundation.org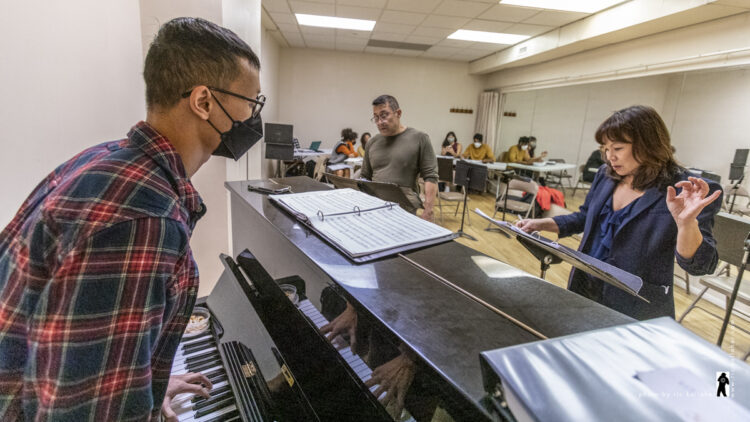 Don't submit until your piece is ready. For SOUND BITES we are looking for pieces that are ready to put up on stage in front of a paying audience, so make sure your piece is fully ready and is in the best shape possible for production. For our Writers Lab we are willing to look at pieces that are in various stages of development… in that case please be sure to describe the stage of development and what your plans are to move it along further.
Read the guidelines carefully and follow directions. Don't submit if you don't have everything we are asking for ready and fully prepared. Also don't over or under submit. More is not necessarily better but if given a space allotment, use it fully. Be concise but specific.
Your narrative about your piece is very important. Why is it deserving? What makes it unique? Why you, why this piece and why now? Why a musical? The narrative should be compelling but also let us know that the piece is producible. Don't hype but do speak from your heart and your passion.
Have someone who is not familiar with your musical proof your submission. Ask them what they understood, and what confused them or was unclear. What is obvious to you may not be to someone else going over your submission for the first time.
Whether your piece is chosen or not, it's being seen and considered by industry professionals. I think it's important to realize that even if you receive that rejection letter (or email) that the individuals who read your submission are now aware of you and your work… and that goes a long way in establishing you as a professional and opening door down the road.
Tom Morrissey
Artistic Director
Theatre Now New York
tnny.org
Read every page on our website regarding the application process to get the full picture of what we do and what we need in the application. Sometimes people write in their application about working with actors and being with other writers, which is not part of what we do. We give private weeklong residencies to one team of writers to focus solely on writing for nine weeks in a row.
Don't hesitate to email the people listed on the website with any questions at all.
It may seem silly, but please follow instructions. And again, don't hesitate to reach out with any questions.
Kathy Evans
Founding Executive Director
Rhinebeck Writers Retreat
rhinebeckwriters.org
Demos, demos, demos. The number one quality a demo should possess is clarity. The listener should understand the lyrics, any dialogue or stage directions read, and get a solid sense of the musical vocabulary of the score. I often hear demos recorded from under a chair at a reading or from someone's pocket, which makes things extremely hard to discern when listening because of all the other sounds competing and the distance between the singers and the recording device. Conversely, some composers will often digitally orchestrate their demos to such a degree that it distracts from the raw material. If you are privileged enough to have access to a personal recording device (such as an iPhone or a laptop), and what is available to you is a recording of a reading you did, figure out the best placement of your recording device in that space before the reading by running some sound checks ahead of time.
Alexander Gemignani
Artistic Director of the National Music Theatre Conference at the Eugene O'Neill Theatre Center
Artistic Director of the American Music Theatre Project at Northwestern University
theoneill.org
amtp.northwestern.edu
You have no competition….
Find your unique voice as a dramatist and lead with it! In a situation where readers will be reading several plays, artistic statements and resumes, the best way to stand out is to be uniquely you. Put time, thought and energy into your artistic statement and make sure it aligns with the style, nature, and genre of the work that you are submitting.
Know how you want to grow….
This is super helpful for both you and the reader if you know what you're looking for in your fellowship experience. For example, if you've written plays for years but never had input or collaborations from a director to know if it's producible, share that.
It's not you, it's me….
This is more than just a cheap excuse for ending a relationship! It's also often the case with submitting to fellowships. Know that oftentimes advancing to the next round or being selected is not about your skill as a writer, but more about the direction of the fellowship.
Get Back Up!
Rejection is hard…I mean really hard! But it is not the "end all be all." Check the feedback if it's offered. Take what applies and leave the rest. Dust yourself off and Get. Back. Up.
Goldie Patrick
Director of Programming
Dramatists Guild Foundation
www.dgf.org