This week we continued our New Musicals Month by highlighting Village Theatre, Finger Lakes Musical Theatre Festival, The Musical Stage Company, the writing teams of The Wicker Husband and Monstersongs, and many more. In case you missed it, here's our week in review!
---
Monday, Sept. 10 – Village Theatre
Village Theatre's Beta Series presented three new musicals in developmental productions this year! ZM, written by Mark Hollmann (Fest '91, THE GIRL, THE GROUCH, AND THE GOAT) and Greg Kotis, and AFTERWORDS, written by Zoe Sarnak and Emily Kaczmarek, had Beta Series productions following readings at Village Theatre's 2017 Festival of New Musicals. Hip Hop infused musical HOW TO BREAK (Fest '14), written by Aaron Jafferis (Fest' 07, KINGDOM) and Rebecca Hart with a Beatbox score by Yako 440, was also part of the Village Theatre's 2016 Festival of New Musicals.
STRING (Fest '14) had it's world premiere on the Mainstage this spring following development steps in 2016 and 2017 at Village Theatre. STRING has a book by Sarah Hammond with music and lyrics by Adam Gwon (Fest '08, ORDINARY DAYS and Fest '11, BERNICE BOBS HER HAIR).
On Saturday, you can hear more from Village Theatre when they take over our social media and give you a look into their production of THE NOTEWORTHY LIFE OF HOWARD BARNES (Fest '14) which opens on Wednesday.
#NAMTNewMusicals #NAMTNewMusicalsMonth
First photo: ZM, photo by Danielle Barnum / Second photo: AFTERWORDS, photo by Jeff Carpenter / Third photo: HOW TO BREAK, photo by Jeff Carpenter / Fourth photo: STRING, photo by Mark Kitaoka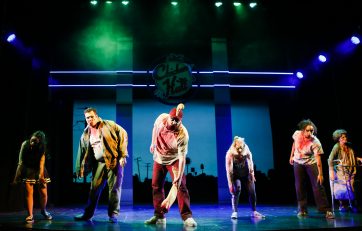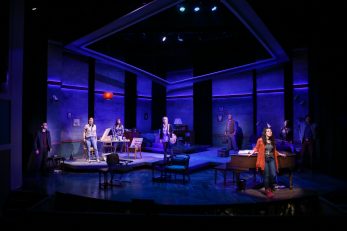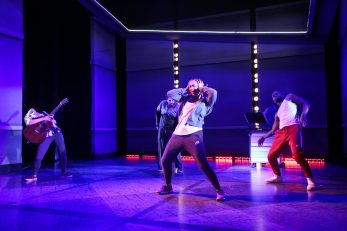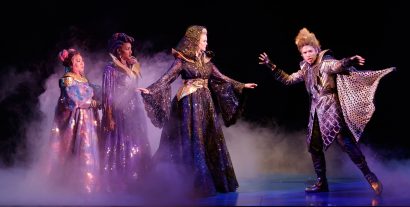 ---
Monday, Sept. 10 – Philip Stern
#NAMTNewMusicalsMonth #NAMTNewMusicals
Our associate member Philip Stern has been busy working on his new project – YOUNG DR. JEKYLL. YOUNG DR. JEKYLL – written by Philip and Lisa Hopkins.
It has had two readings in NYC, a concert presentation at 54 Below and a workshop in Vermont. Recently, it had an exciting developmental production at Proctors in Schenctady.
Photos courtesy of Tim Barden images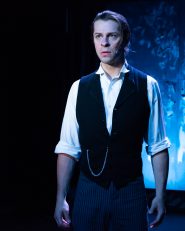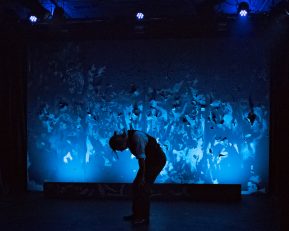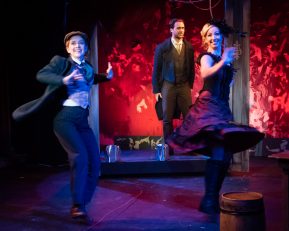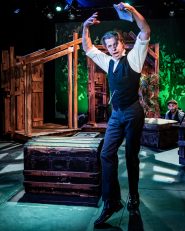 ---
Tuesday, Sept. 11 – Finger Lakes Musical Theatre Festival
It's not often that a childhood classic gets turned into a musical, but this children's-book-turned-musical is going to rock your world. This past July, Finger Lakes Musical Theatre Festival put up a development production of ANNE OF GREEN GABLES: A NEW FOLK ROCK MUSICAL by Matte O'Brien and Matt Vinson. The show first came to FLMTF as part of The PiTCH in the summer of 2017. The PiTCH is FLMTF's annual new works series that showcases new musicals in development. While at The PiTCH, the production sold out its three scheduled performances and an added fourth performance. This year, the production was brought to the main stage as part of FLMTF's 60th Anniversary season.
#NAMTNewMusical #NAMTNewMusicalsMonth
Photos by Ron Heerkens Jr. / GFMedia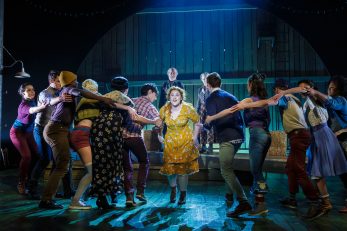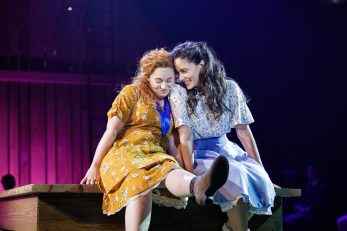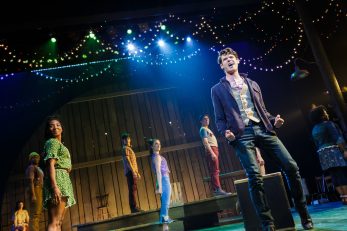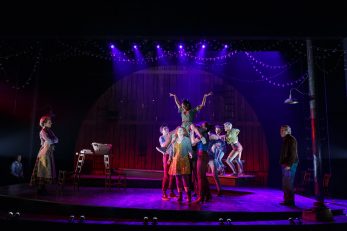 ---
Tuesday, Sept. 11 – Paper Mill Playhouse
#NAMTNewMusical #NAMTNewMusicalsMonth
This summer, Paper Mill Playhouse helped a new musical reach the east coast: HALF TIME with a book by Bob Martin (Fest '04, THE DROWSY CHAPERONE) and Chad Beguelin (Fest '94, WICKED CITY), music by Matthew Sklar (Fest '94, WICKED CITY), and lyrics by Nell Benjamin (Fest '03, SARAH, PLAIN, AND TALL)! HALF TIME is based on the original documentary motion picture GOTTA DANCE, directed, written and produced by Dori Berinstein in 2007. The musical began its development shortly thereafter when director/choreographer Jerry Mitchell viewed the film and contacted Ms. Berinstein about turning it into a stage musical. After many readings and workshops, it premiered in Chicago in 2016. Having learned a lot from the first production, everyone involved was excited to go back to work, and Paper Mill was invited into the process. The show's east coast premiere opened at Paper Mill in June of this year.
To watch their B-Roll click on the following link: https://youtu.be/c0O5Z6Zbdvg
---
Wednesday, Sept. 12 – Pamela's First Musical (Fest' 08)
Everyone remembers their first musical and this new musical shows the impact theatre has on young audience members. PAMELA'S FIRST MUSICAL (Fest '08) is the story of a young suburban girl who feels out of place until a trip to New York changes her world. This new musical has a book written by the late Wendy Wasserstein and Christopher Durang, music by Cy Coleman and lyrics by David Zippel (Fest '03, PRINCESSES). Ten years after the show was featured in NAMT's Festival of New Musicals, this family show made its world premiere at Two River Theater Company this past weekend and will be running until October 7th.
Here are a few photos from when PAMELA'S FIRST MUSICAL was in rehearsal for our festival!
#NAMTNewMusicals #NAMTNewMusicalsMonth
Photos by Ric Kallaher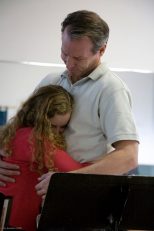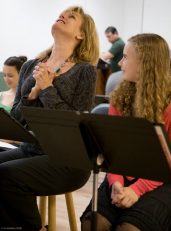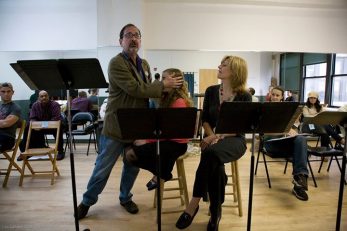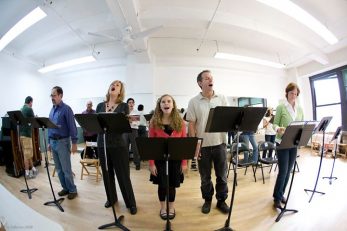 ---
Thursday, Sept. 13 – The Musical Stage Company
Today in New Musicals News, we are wishing a happy opening to The Musical Stage Company's DR. SILVER: A CELEBRATION OF LIFE! DR. SILVER – an immersive musical written by Anika Johnson and Britta Johnson – has had a long journey with The Musical Stage Company. Back in March of 2016, The Musical Stage Company co-commissioned DR. SILVER with Outside the March. That August, the show had its first public performance of a 30-minute excerpt.
In February 2017, when The Musical Stage Company announced their CRESCENDO SERIES – a three-year residency for a musical theatre composer with a commitment to develop and produce three of their new musicals (created alone or in collaboration with other writers) during their residency. Britta Johnson – the inaugural Crescendo artist – had her first piece – LIFE AFTER – premiere in Toronto, earning significant acclaim. DR. SILVER is the second work in the series. Late last year, the show had a two-week workshop intergrating cast and a youth choir led by Mitchell Cushman, the director.
Fast forward to June of this year, DR. SILVER – supported in part by NAMT's National Fund for New Musicals – had a 16-day workshop uniting the show's cast, creative team and audience in Heliconian Hall (the actual site for the immersive musical). This developmental phase included five public rehearsals programmed as part of Toronto's prestigious Luminato Festival, allowing the team to experiment around the role of the audience in the immersive encounter. The production itself is supported in part by NAMT's Innovation & Exlporation Grant.
If you happen to be in Toronto, be sure to catch DR. SILVER: A CELEBRATION OF LIFE before it closes on October 13!
#NAMTNewMusicals #NAMTNewMusicalsMonth
Video: Edge of the Sky Young Company from Wexford Collegiate. Video by Q Media
https://www.youtube.com/watch?v=PeVFx_s4KLU&feature=youtu.be
---
Friday, Sept. 14 – Festival 2018: Monstersongs
Festival Friday is still happening! Join us in celebrating Rob Rokicki, the writer of MONSTERSONGS, one of this year's Festival shows.
What was the first musical you ever saw?
My babysitter took my twin sister and I to a high school production of OKLAHOMA! But I had already caught the theatre bug. In the 1st grade, I was in a production of GOING BUGGY – see what I did there? I had one line and I nailed it.
What is your favorite musical? Favorite composer?
SWEENEY TODD (I beat Josh Groban out for the lead at Interlochen – his career is going fairly okay though). My favorite composer – Joe Iconis. You can say I'm biased because he's my friend and you'd be correct – but also he's just so damn good.
What is your go-to musical theatre shower song?
"The Meek Shall Inherit" from LITTLE SHOP OF HORRORS. It's like a 7-minute song. It's a long shower. You also have to sing all the backups.
#NAMTNewMusicals #NAMTNewMusicalsMonth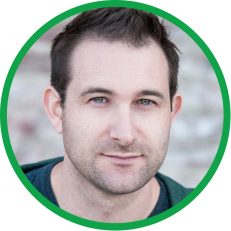 ---
Friday, Sept. 14 – Festival 2018: The Wicker Husband
Today we're highlighting our writing team that is joining us from across the pond – meet the writing team of THE WICKER HUSBAND.
Music & lyrics by Darren Clark. Book by Rhys Jennings. Based on a short story by Ursula Wills-Jones.
What was the first musical you ever saw?
Darren: STARLIGHT EXPRESS. My family were visiting the UK & for some reason my mum thought it would be a good idea to go & see a roller skating musical about trains. It set me up for my future career as a singing, roller skating train.
Rhys: The first musical I remember having a profound impact on me was the 1961 film of WEST SIDE STORY. I must have been about 8 or 9? I remember it being so vivid, exciting & sexy!
What's your favorite musical?
D: There are so many brilliant ones to choose from – the one I admire the most for it's craft of lyric & music is Adam Guettel's FLOYD COLLINS. But favourite show for it's melodies, lyrics, story & the coming together of a bunch of geniuses, WEST SIDE STORY gets my vote every time.
If you could turn any movie into a musical, what movie would it be?
R: I'm sure I'm not alone amongst bookwriters in that I find it very difficult to watch anything without the classic "what would this be like as a musical?" question flitting through my mind at least once. The most recent movie was Guillermo Del Torro's "The Shape of Water".
What's your go-to musical theatre shower song?
D: When I'm not figuring out answers to my own lyrical conundrums, it has to be "Stars" from LES MIS. My voice is a little deeper in the morning & it's the only time I can sing with authority. My Javert has been heard through neighbour's walls all over the world – to rapturous applause or screams for me to "shut up about the cosmos. It's 7AM!"
What are your non-theatre hobbies?
R: I'm a huge fan of cryptic crosswords. Nothing beats the quiet, smug satisfaction of completing a tough one. I've even made a few of my own, which is an art in itself.
#NAMTNewMusicals #NAMTNewMusicalsMonth