We are thrilled to announce the line-up of new musicals for the 29th Annual Festival of New Musicals, which takes place on Thursday, October 19 and Friday, October 20, 2017 in New York.
Now in its 29th year, the National Alliance for Musical Theatre's Festival of New Musicals attracts theatre producers from around the world for this industry-only event to discover eight new musicals presented in 45-minute concert presentations over two days. All production costs are underwritten by NAMT, at no cost to the writing teams.  As a non-profit organization, NAMT funds the Festival entirely through donations, sponsorships and contributions.
The Festival has introduced musical theatre producers to 244 musicals and 460 writers from around the world. As a direct result of the Festival of New Musicals, more than 85% of the musicals presented have gone on to subsequent readings, workshops, productions and tours, been licensed, and/or recorded on cast albums. Some past Festival shows include this year's Best Musical Tony Award-nominee Come From Away, The Drowsy Chaperone, It Shoulda Been You, Striking 12, Ordinary Days, Thoroughly Modern Millie, among many others.
This year, a committee of 16 theatre professionals selected eight new musicals out of 240 blind submissions. The musicals they chose for the 29th Annual Festival are: Darling Grenadine (book, music & lyrics by Daniel Zaitchik), Fall Springs (music & lyrics by Niko Tsakalakos, book & lyrics by Peter Sinn Nachtrieb), GIRL Shakes Loose (music & lyrics by Imani Uzuri, book & lyrics by Zakiyyah Alexander, poetry by Sonia Sanchez), Klook's Last Stand (book by Ché Walker, music by Omar Lyefook & Anoushka Lucas, lyrics by Ché Walker & Anoushka Lucas), Persephone (book and lyrics by Marcus Stevens, music by Oran Eldor),The Passage (book, music & lyrics by David Darrow), Prom Queen (book by Kent Staines, lyrics by Akiva Romer-Segal, music by Colleen Dauncey), and Sam's Room (book by Dale Sampson with Trey Coates-Mitchell, music and lyrics by Caitlin Marie Bell, Marc Campbell & Dale Sampson).
In a statement, Betsy King Militello, Executive Director of the National Alliance for Musical Theatre, said: 
From a record-breaking 240 submissions, our incredibly hard-working and thoughtful Festival Committee has picked eight shows—some that tell new stories, some that explore universal themes in surprising ways. This Festival, with its unique voices that need to be heard, is going to be thrilling!
On behalf of the Festival Committee, Co-Chairs Robert Lee, Associate Arts Professor, NYU-TSOA-GMTWP (NY) and Søren Møller, Creative Producer, Fredericia Teater stated:
Choosing eight shows for our Festival has never been so difficult. The 200-plus exceptional submissions this year made for some difficult decisions among the committee, but speaks to a bright future for new musical theatre.
Casting for each musical and further programming details will be announced soon.
---
THE MUSICALS
Darling Grenadine
Book, music & lyrics by Daniel Zaitchik
Darling Grenadine is a seriocomic musical about Harry, a fanciful jingle composer, and his precarious relationships with his girlfriend Louise, his brother Paul, and his Labrador Retriever (…also named Paul.)  Told with a rich contemporary score and a wink to the classic MGM musical, Darling Grenadine explores the friction between romance and reality, bitter and sweet, serving something magical, moving, and boldly new.
DANIEL ZAITCHIK is a composer-playwright, singer-songwriter, and actor. He is the recipient of the 2017 Kleban Prize for most promising musical theatre lyricist. His projects include Picnic at Hanging Rock (book/music/lyrics), Darling Grenadine (book/music/lyrics), and Suprema (with Jordan Harrison). Zaitchik's musicals have been selected three times for development at the Eugene O'Neill Theater Center's National Music Theater Conference, and have been workshopped at Lincoln Center Theater, Ars Nova, New Dramatists, The Johnny Mercer Writers Colony, and Goodspeed Musicals. Darling Grenadine will premiere at Goodspeed in 2017. As a singer-songwriter, Zaitchik's albums include Summer of the Soda Fountain Girls and Bad Dancer. As an actor, he has worked at Playwrights Horizons, Manhattan Theatre Club, Williamstown Theatre Festival, Long Wharf Theatre, and others. Honors include The Ester B. Kahn Career Entry Award from Boston University, the Frederick Loewe Award (Suprema) and The Georgia Bogarduz Holof Lyricist Award (Picnic at Hanging Rock.)
Fall Springs
Music & lyrics by Niko Tsakalakos
Book & lyrics by Peter Sinn Nachtrieb
Fall Springs is a semi-charming, cash-strapped town that sits directly on top of America's largest reserve of cosmetic essential oils. It has big dreams, but at what cost? With new fracking techniques being recklessly implemented, the ground beneath Fall Springs is crumbling. Boulders, sheds, and the occasional bartender are being swallowed into the ground. And that's only the beginning.
PETER SINN NACHTRIEB is a San Francisco-based playwright whose work has been seen Off-Broadway and across the country. Plays include The Totalitarians, boom (TCG's most produced play 2009-10), BOB (2011 Humana Festival for New American Plays at Actors Theatre of Louisville, Barrie and Bernice Stavis Award), House Tour of the Infamous Porter Family Mansion with Tour Guide Weston Ludlow Londonderry, T.I.C. (Trenchcoat In Common), Hunter Gatherers (2007 ATCA/Steinberg New Play Award, 2007 Will Glickman Prize), Colorado, and Litter: The True Story of the Framingham Dodecutuplets. His newest piece, The Making of a Great Moment, premiered at Merrimack Repertory Theatre in 2017. Peter holds a degree in Theatre and Biology from Brown and an MFA in Creative Writing from San Francisco State University. Peter is a member of New Dramatists and is Playwright in Residence at Z Space in San Francisco. He likes to promote himself online at www.peternachtrieb.com.
NIKO TSAKALAKOS is a New York-based singer-songwriter and composer-lyricist whose debut solo album, The First Snow, embodies his unique, edgy blend of theatre and pop. He's writing a new musical with Janet Allard, Into the Wild, based on the book by Jon Krakauer, commissioned by Perseverance Theatre, scheduled for a workshop production at Encore Musical Theatre Company in April. Pool Boy, the musical he co-wrote with Janet Allard, premiered at Barrington Stage Company in the summer of 2010 and was produced by NYU Steinhardt at Provincetown Playhouse in 2012.   His concerts have been performed at Joe's Pub, 54 Below, Birdland, Ars Nova, The Zipper Factory, Barrington Stage Company, and Lincoln Center's Bruno Walter Auditorium, among others. 2015 Composer Fellow at Sundance Retreat at Ucross, Wyoming. Finalist Kleban Prize 2014, ASCAP Plus Award (2013), NAMT Writers Residency Grant for Pool Boy at NYU (2012), Playwrights Center Writing Grant (2009), MFA Tisch Tuition Scholarship (2006-2008), and UCLA Barry Manilow Scholarship (2003/2004). www.nikosongs.com
GIRL Shakes Loose
Music & lyrics by Imani Uzuri
Book & lyrics by Zakiyyah Alexander
Poetry by Sonia Sanchez 
GIRL Shakes Loose is a three-city coming of age journey. Girl finds herself in New York, unemployed, suddenly single and must figure out where she's going and why she keeps making the same mistakes. It's up to Girl to figure out where home is and how (and if) she'll get there.
Composer and vocalist IMANI UZURI was a 2015-2016 Park Avenue Armory Artist-in-Residence. She has performed at a myriad of international venues and festivals and has collaborated with a cross section of noted artists traversing many artistic disciplines. Her most recent album, The Gypsy Diaries, draws on her rural North Carolina roots. The Village Voice says, "Imani Uzuri is a constant surprise…seamlessly combining jazz, classical, country and blues motifs into highly personalized compositions." Uzuri is a 2015-2017 Map Fund Grantee as composer for her contemporary opera Hush Arbor. Uzuri is currently a 2016-17 Jerome Foundation Composer/Sound Artist Fellow. She recently made her Lincoln Center American Songbook debut and appeared as a featured performer on Black Girls Rock. Recent theater credits, Public Theater: composer for Public Works Troy and Mobile Unit's Hamlet.
ZAKIYYAH ALEXANDER plays include: GIRL Shakes Loose (Penumbra Theatre 2017), Sick? (Summer Play Festival), The Etymology of Bird (Central Park Summerstage; Hip Hop Theater Festival; Providence Black Repertory Theatre), Blurring Shine (Market Theatre, Johannesburg; NY International Fringe Festival), Sweet Maladies (Brava Arts Center; Rucker Theatre; Bay Area Playwrights Festival), something new (commissioned by Philadelphia Theatre Company), and (900). A former resident of New Dramatists, her work has been developed at The O'Neill Musical Theater Conference, The MacDowell Colony, The Lark, etc. Past commissions: Second Stage, The Philadelphia Theatre Company, and the Children's Theatre of Minneapolis. A graduate of the Yale School of Drama (MFA playwriting), Zakiyyah has taught television writing for Columbia's MFA program, formerly an associate professor at Bard College. She is a co-founder of The Kilroys, and her work has been included on the 2015 Kilroys List. Currently, she is a story editor on the Fox show "24 Legacy."
SONIA SANCHEZ. Poet. Mother. Professor. National and international lecturer on Black Culture and Literature, Women's Liberation, Peace and Racial Justice. Sponsor of Women's International League for Peace and Freedom. Board Member of MADRE. Sonia Sanchez is the author of over 16 books including Homecoming, We a BaddDDD People, Love Poems, I've Been a Woman, A Sound Investment and Other Stories, Homegirls and Handgrenades, Under a Soprano Sky, Wounded in the House of a Friend (Beacon Press, 1995), Does Your House Have Lions? (Beacon Press, 1997), Like the Singing Coming off the Drums (Beacon Press, 1998), Shake Loose My Skin (Beacon Press, 1999), and most recently, Morning Haiku (Beacon Press, 2010). She is the subject of the 2016 PBS featured documentary BaddDDD Sonia Sanchez.
Klook's Last Stand
Book by Ché Walker
Music by Omar Lyefook & Anoushka Lucas
Lyrics by Ché Walker & Anoushka Lucas

Klook is a drifter who's gotten too old to drift. Vinette is on the run but she doesn't know what's chasing her. Together, they make a tentative stab at love and happiness until the past catches up with them and dashes their newfound hope. Tough, tender, funny and poignant, Klook's Last Stand will grab you from the inside out. Soulful music combined with a witty, moving story makes this a mesmerizing theatre experience.
ANOUSHKA LUCAS is a singer/songwriter and actress based in London. Since graduating from Oxford, she has released two self-produced EPs of her own jazz compositions. In 2013 she won the Jazz FM Love Supreme Competition and opened the inaugural Love Supreme Festival. She is currently completing an album due for release in 2017, supported by Jamie Cullum at Radio 2 and produced by Martin Terefe at Kensaltown Studios. She has co-composed the music for two original musicals written by Ché Walker, Klook's Last Stand (Park Theatre, 2014) and The Etienne Sisters (Theatre Royal Stratford East, 2015), as well as playing in the band of Ché Walker and Arthur Darvill's Lightning Child at The Globe in 2013.  In 2016 she played Mary Magdalene in the Regent's Park Open Air theatre production of Jesus Christ Superstar.
CHÉ WALKER is an award-winning playwright and director. Since graduating from the Webber Douglas Academy in London, Ché has worked with Edward Bond, Dennis Potter, Philip Ridley, Mark Ravenhill and Ricky Gervais, among others. His first play, Been So Long, premiered at the Royal Court Theatre in 1998 and was runner-up for both the Meyer-Whitworth and the John Whitting Award before being translated and performed in Sweden, Denmark, Germany, New Zealand and Australia. His play, Flesh Wound, premiered at the Royal Court in 2003 and won the George Devine Award for Most Promising Playwright. Ché has won the Peter Brook Award for his plays Crazy Love and Burnt Up Love. Ché's musical version of Been So Long was a nominee for The Ned Sherrin Award for Best Musical in the Evening Standard Theatre Awards 2009.
Considered by many to be the father of British Neo-soul, OMAR LYEFOOK is a singer and multi-instrumentalist graduate of Guildhall School of Music who has written and performed with Stevie Wonder, Erykah Badu, and Angie Stone to name but a few. To date Omar has recorded and released seven albums and continues to tour extensively around Europe and America. In 2006, Omar was the recipient of both the Best Neo Soul Act and Outstanding Achievement Awards at the Urban Music Awards. In 2012, he was appointed Member of the Order of the British Empire (MBE) in the Birthday Honours for services to music.
Persephone
Book & lyrics by Marcus Stevens
Music by Oran Eldor
In Persephone, a myth is raised from the dead, the gods are celebrities hounded by the paparazzi, and their saga is set to a pop/rock score. Teenage Persephone longs for independence from her mother Demeter, but her wish gets distorted when she finds herself trapped in the Underworld by Greece's perennial bad boy, Hades. What follows is an off-beat, emotionally-charged coming-of-age story for ancient and modern times.
ORAN ELDOR: Orchestrations and arrangements: Fiddler on the Roof (Dance Arrangements), John Legend, Andrea Bocelli, Kristin Chenoweth, Hugh Jackman, Deborah Voigt, New York Philharmonic, Disney Parks, L.A Philharmonic, New York Pops, Alan Menken, Chaplin (European Tour), My Life is a Musical, The Great American Mousical, "Ring Them Bells" (PBS), "From Dust to Dreams" (PBS). Composer: "Sesame Street" (Israel), "Peg+Cat" (PBS), and several musicals in development. Composer in Residence: Salome Chamber Orchestra, Park Avenue Synagogue. Composition Fellow at the Royal Opera House, London. BMI Musical Theatre Workshop. Berklee College of Music. Awards: Rokem Composition Award, Esterhazy Quartet Award. His liturgical music is sung regularly in synagogues in New York, Washington D.C, Miami, Los Angeles and London. www.oraneldor.com
MARCUS STEVENS is a member of the BMI Musical Theatre Workshop, ASCAP and the Dramatists Guild, and is the recipient of the 2005 Richard Rodgers Award for his musical, Red (written with composer, Brian Lowdermilk). He participated in the 2011 Johnny Mercer Songwriters Project held at Northwestern University, and New York Theatre Barn produced a showcase of his lyrics in the spring of 2013. Marcus has written book and lyrics to Red, Eastburn Avenue, Elliot and the Magic Bed, Persephone, and Yo, Vikings! (written with composer Sam Willmott), which has recently been published by Samuel French, Inc. He is currently writing material for Dragons Love Tacos, soon to be produced by Theatreworks USA. Marcus is also an actor who has performed Off-Broadway in two editions of Forbidden Broadway. He can be heard on two original cast recordings of this award-winning franchise.
The Passage
Book, music & lyrics by David Darrow
Albert, a sixth grader, has a monster living in his basement. When it captures his father, he enlists his brave new friend, Cassie, and together they embark on an epic journey to save his Dad and his family. The Passage is a coming-of-age story about two imaginative children confronting a reality stranger than anything they could imagine.
DAVID DARROW is a composer, lyricist and playwright. His latest musical, The Passage, received its premier at The Guthrie Theater in Minneapolis in a production by 7th House Theater. David has provided music and lyrics for five musicals, three of which also debuted at the Guthrie. He co-wrote music and lyrics for Jonah and the Whale (with Blake Thomas), which will receive its second professional production this February at Stoneham Theatre in Massachusetts. David is a graduate of Albright College, a former Acting Apprentice at the Actors Theatre of Louisville, and is a founding company member at 7th House Theater.
Prom Queen
Book by Kent Staines
Lyrics by Akiva Romer-Segal
Music by Colleen Dauncey
Prom Queen is inspired by the incredible, true story of Marc Hall, the Canadian teenager who took the Catholic School Board to court when they refused to let him attend prom with his boyfriend. In this fun and uplifting musical, Marc has to learn to be his own hero and fight for the right to be himself.
KENT STAINES has been working in the Canadian entertainment industry for 25 years as an actor, director and writer. His playwriting credits include Hero Bound, Tina's Room and his hit one-person show Lana Lust: The Bitch Stops Here!  His television writing credits include: co-creator and writer of the series "MVP: The Secret Lives of Hockey Wives" (CBC), "Prom Queen: The Marc Hall Story" (Tapestry Pictures / CTV), "Moose TV" (Rezolution Pictures / Showcase), and "Spirit Bear: The Simon Jackson Story" (Screen Door / CTV) which won the Audience Choice award at the Sprockets International Children's Festival in Toronto. Recent writing credits include the web series "Anxietyville" and the upcoming BravoFact short film Chateau Laurier. In 2016 Kent was the recipient of the Playwrights Guild of Canada (PGC) New Musical Award for Prom Queen (with Akiva Romer-Segal and Colleen Dauncey).
After a decade-long career as a set and costume designer, AKIVA ROMER-SEGAL transitioned to writing songs with collaborator Colleen Dauncey. Together they have written the scores to The Subway Songs, Scenes from the Bathhouse, Bremen Rock City, Prom Queen: the Musical as well as numerous stand-alone songs for cabaret performers, recording artists and Broadway stars. They are currently developing the musicals Offline and Rumspringa Break! Akiva was selected to participate in a William Finn masterclass, Sheridan College's Canadian Music Theatre Project, Theatre 20's Composium, Acting Up Stage's Noteworthy, The Cutting-Edge Composers series in New York, and the Johnny Mercer American Songwriters Project in Chicago. Colleen & Akiva received grants from the Ontario Arts Council and the Foundation to Assist Canadian Talent on Records (FACTOR) and were recipients of the Playwright's Guild of Canada's New Musical Award for Prom Queen. Find out more at colleenandakiva.com.
COLLEEN DAUNCEY is a Toronto-based composer who has collaborated with lyricist Akiva Romer-Segal on several musicals: The Subway Songs, Scenes from the Bathhouse, Bremen Rock City, Prom Queen: The Musical, and Rumspringa Break! An Am-ish Musical. Colleen & Akiva are alumni of Theatre 20's Composium, Acting Up Stage's Noteworthy program, and the Johnny Mercer Songwriters Project at Northwestern University in Chicago, where they were mentored by Craig Carnelia, Marcy Heisler and Lari White. The duo workshopped their musicals Prom Queen and Rumspringa Break! through the Canadian Music Theatre Project at Sheridan College. Colleen has received grants from FACTOR (Foundation Assisting Canadian Talent on Records), the Ontario Arts Council, and the Canada Council for the Arts for her compositions with Akiva as well as for pop recordings with her former band Petty Victories and her current solo project. Colleen's music has been featured on TV and films both nationally and internationally.
Sam's Room
Book by Dale Sampson with Trey Coates-Mitchell
Music & lyrics by Caitlin Marie Bell, Marc Campbell & Dale Sampson
This pop concert dramedy follows Sam, a teenager in 1998 with nonverbal special needs, on his path to find a way to communicate. Shifting between cruel reality and pop star fantasy, Sam's Room powerfully reveals the universal struggle with communication by giving a voice to someone who's never had one.
DALE SAMPSON is a Grand National Champion in public speaking. Dale is the creator and star of his first written work, Sam's Room, the 2017 inaugural recipient of New York Theatre Barn's IMPACT Award. National Tour: Seussical (Cat in the Hat), NYC productions: Rent (Mark), Evita (Che), Propaganda! The Musical (Rookie, lead) at NYMF and workshop at Orlando Shakespeare Theater, Kingdom Come (Freddy/Michael) winner: Best Musical at DUTF, Best Imitation at FestivALL, Emerging Artists, and Midtown International Theatre Festival, Regional: The View UpStairs regional premiere (Wes), The Last Five Years (Jamie), Cinderella with the American Pops Orchestra (Fairy Godmother/King/Step Sister).
TREY COATES-MITCHELL. – Directing credits: Sam's Room at The Cell (New York Theatre Barn's New Works Series).  Choreographer credits: The Pirates of Penzance and Hairspray at Shenandoah Summer Music Theatre, Wonderful Town at The Gallery Players, Harold Pinter's The Lover at Gamut Theatre, Goodnight Moon and Nine at Hollins University, and Product Test for Sideways Contemporary Dance Company. Associate Choreographer credits: A Little Night Music at The Gallery Players (NYIT Nominee for Outstanding Production of a Musical), Rent, Dreamgirls, and Evita.  As an Acting for Dancers guest artist: Joffrey Ballet School, Project HEAL, Broadway Boot Camp, Troy University, and NYCDA's Summer Dance Intensive.
MARC CAMPBELL is a member of indie rock band MisterWives, dubbed by MTV as "the golden children of pop." They currently have over 250 million streams and counting on Spotify and their first single was certified gold. The band recently played a sold out show at Madison Square Garden playing with Brendon Uri (Panic! at the Disco). Marc has made numerous television performances, including Jimmy Kimmel, James Corden, Seth Meyers, MTV, Good Morning America and The Today Show. The band has also received prominent billing in major U.S. music festivals including Bonnaroo, Firefly, Lalapalooza, Outside Lands, Bottle Rock and more.
CAITLIN MARIE BELL studied opera at the Oberlin Conservatory of Music, where she received her BM in vocal performance. She then moved to NYC and reconnected with her Americana roots in the Greenwich Village singer-songwriter circuit. There, she found her musical soulmates, forming Bell the Band. This summer, Caitlin travelled the country supporting fellow NYC group MisterWives. The tour supported her debut EP. The five song set gained early support from Spotify, and was featured on the cover of the New Roots playlist, contributing to the 300,000+ plays and 35,000 monthly listeners. Caitlin also plays keyboards and sings back-up vocals on tour with pop band Handsome Ghost.
---
REGISTRATION
Online registration for the Festival is now open.
Attendance Eligibility
The Festival is free and open to theatre industry professionals and major donors to NAMT. We define an industry member as anyone currently working professionally in the theatre who can aid in the development of the shows or writers we present. You will be asked to state your affiliation with one of the professional organizations/groups/unions, such as TCG, The Broadway League, LORT, ART/NY, etc., in order to register for the Festival. If you meet this criterion, you must register, but no invitation is required (subject to space and availability). If you do not, you may also register with our online form and make a donation to NAMT.
Public standby lines form prior to each presentation, for which no prior registration is required. Standby seating is not guaranteed.
Festival Passes
There are four different passes available for the Festival, each with its own level of access and benefits outlined in the chart below. Industry members who are not members of NAMT will be asked to select their pass level when they register. Although a General Pass to the Festival is free to industry professionals, your tax-deductible contribution allows the Festival of New Musicals to create a nurturing environment for the discovery, development and advancement of the new works, at no cost to the writers participating.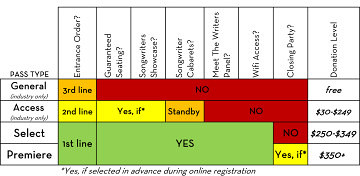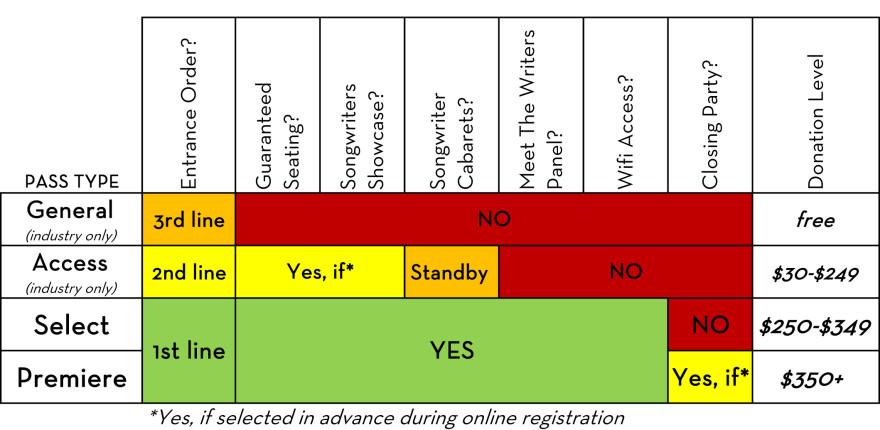 Click the chart to enlarge.
NAMT Member Registration
NAMT member organizations receive a limited number of complimentary Premiere Passes and Select Passes (see chart above).
Institutional Voting members receive 4 Premiere Passes and 2 Select Passes
Independent Producer Voting members receive 2 Premiere Passes and 2 Select Passes
Academic, Developmental and International members receive 2 Premiere Passes and 1 Select Pass
Associate Members receive 1 Select Pass
Late Registration
Online registration for the Festival ends on October 13.
Festival registrations received after October 2 will be subject to the following late registration processing fees:
October 2-October 13: $20 fee
Walk-up registration at the Festival: $30 fee
---
ABOUT NAMT
The National Alliance for Musical Theatre, founded in 1985, is a national service organization dedicated exclusively to musical theatre. Their mission is to advance musical theatre by nurturing the creation, development, production and presentation of new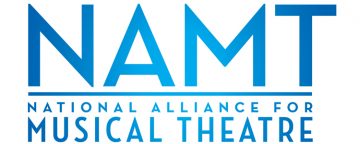 musicals, and to provide a forum for musical theatre professionals to share resources and exchange information. Their 213 members, located throughout 32 states and abroad, are some of the leading producers of musical theatre in the world and include theatres, presenting organizations, higher education programs and individual producers. Among the 244 musicals launched by NAMT's annual Festival of New Musicals are  Come From Away, Thoroughly Modern Millie, Children of Eden, Honk!, The Drowsy Chaperone, It Shoulda Been You, Songs for a New World, I Love You Because, Striking 12, Vanities, Ordinary Days and many others, representing 460 writers.
about the Festival
NAMT's FESTIVAL OF NEW MUSICALS is the cornerstone of NAMT's mission to nurture the creation, development and production of new musicals.  The Festival presents eight musicals in 45-minute presentations before an
audience of over 600 industry professionals. In the short run, the Festival's goal is to connect producers with writers, so that their shows can continue their development trajectory. The long-term goal is to expand the musical theatre repertoire, bringing new musical theatre to thousands of audience members around the world.
The 29th ANNUAL FESTIVAL OF NEW MUSICALS is overseen by NAMT New Works Director Ciera Iveson and Festival General Manager Lisa Dozier King.
The 2017 Festival Committee is co-chaired by Robert Lee, Associate Arts Professor, NYU-TSOA-GMTWP (NY) and Søren Møller, Creative Producer, Fredericia Teater (DK). Committee members include Pamela Adams, General Manager, Atlantic Theater Co. (NY), Lindsay Allbaugh, Associate Producer, Center Theatre Group (CA), Lori Fineman, Executive Director, Transport Group (NY), Kate Galvin, Associate Producer, 11th Hour Theatre Co. (PA), Donna Lynn Hilton, Line Producer, Goodspeed Musicals (CT), Branden Huldeen, Artistic Associate & Director of New Play Development, Barrington Stage Company (MA), Ann-Carol Pence, Co-Founder/Associate Producer, Aurora Theatre (GA), Amy Rogers Schwartzreich, Director of Musical Theatre, Pace New Musicals (NY), Michael Rubinoff, Associate Dean/Producer, Canadian Music Theatre Project (ON), Matthew Schneider, Co-Owner/Producer, Creative Endeavor Office (NY), John Simpkins, Head of Musical Theatre, Penn State Musical Theatre (PA), Yuvika Tolani, Line Producer, The Public Theater (NY), Paige Price, Producing Artistic Director, Philadelphia Theatre Company (PA), Chair Emerita, and Lee Summers (Alumnus Writer Representative), writer of The Funkentine Rapture (Fest '05).
---
NAMT thanks the following foundations, government agencies and organizations for their ongoing support of our programs: The Alhadeff Charitable Foundation, The Alliance of Resident Theatres/New York Creative Spaces Grant, ASCAP Foundation Irving Caesar Fund, BMI Foundation, The Dramatists Guild Fund, The Dubose and Dorothy Heyward Memorial Fund, Friars Foundation, The Hollywood Pantages, a Nederlander organization, National Endowment for the Arts, The Noël Coward Foundation, The Rodgers and Hammerstein Foundation, The Shubert Foundation, The Ted Snowdon Foundation and an anonymous donor.