A guest post from Festival Alumnus Kyle Jarrow, book writer and co-lyricist for this year's show Noir, written with Duncan Sheik. Kyle was previously part of the NAMT Festival in 2009 with his show Hostage Song written with Clay McLeod Chapman.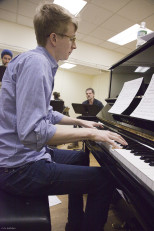 NAMT's illustrious New Works Director Branden Huldeen asked me to write a few words about being a NAMT veteran—what the festival means to me and why I'm excited to come back. I said sure. But now, as I stare at this blank Word Document, I find myself overwhelmed by all the things I could say. Because, simply put, the NAMT Festival is awesome. It's particularly awesome for a writer. It's a chance to showcase your piece in front of some of the most prestigious theaters and producers in the country. It's a chance to develop your piece with the support of Branden and his team, and to hear it performed by a top-level cast.
Because of the aforementioned awesomeness, I'm glad and flattered to be invited back. My first experience as a NAMT Festival participant was in 2009 with my musical Hostage Song, written with Clay McLeod Chapman. That piece is about hostages in a war-torn country, starring two actors who're blindfolded the entire show. So, not exactly your traditional musical. The piece of mine that's being presented this year is Noir, written with Duncan Sheik. No blindfolds this time, but there's plenty else that's offbeat, including an onstage foley artist providing live sound effects. The fact that NAMT keeps selecting such unconventional pieces tells me that they're committed to pushing the boundaries of what musical theater can and should be.
Which brings to me to what's probably awesomest about the festival—it's a chance for me to see the breadth of new work that's being created in the musical theater, and to consider the broad possibilities of the form. That was an energizing experience the first time around, and I'm sure it will be this time too. I look forward to seeing you there!