A guest post from Kyle Jarrow, book writer and co-lyricist for this year's show Noir, written with Duncan Sheik. Kyle was previously part of the NAMT Festival in 2009 with his show Hostage Song written with Clay McLeod Chapman.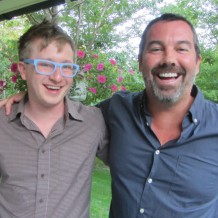 Duncan and I have been working on Noir for about two years now—we began it at the Rhinebeck Writers Retreat (pictured on the right) and developed it through workshops at Playwrights Horizons, New York Stage & Film and at the Joop van den Ende Academy in Hamburg, Germany (!). When we started feeling we'd gotten the piece into a shape we were proud of, we considered the next steps for the piece and the NAMT Festival made a ton of sense. It's a great opportunity to showcase the work, as well as a chance to continue to develop it through the Festival rehearsal process.
What's perhaps most special about the NAMT Festival is the audience it allows one to access—a large group of savvy and insightful theater professionals. Their responses, both during the performance and afterwards, are going to be hugely valuable to Duncan and me. We look forward to sharing Noir with them!