A guest post from Rebekah Greer Melocik, lyricist for this year's show The Last Queen of Canaan, written with Jacob Yandura and Harrison David Rivers. In April,The Last Queen of Canaan was awarded a NFNM Writer's Residency Grant at Theater Latté Da.
Acceptance into NAMT begins with a happy phone call.  You've been waiting.  You're hungry. Maybe for a kale salad with sprouts and hemp oil, but also metaphorically hungry for opportunity, for that next step.  In order to make it this far in the NAMT process, you know your show is good, that it has potential, that people want to see it and push it forward.  You can almost smell a full production.  Then one day Branden Huldeen calls, lets you know that the years you've spent growing, chopping, marinating and baking your show into a lean but emotionally nutritious piece of consumable theater have paid off.
You're in.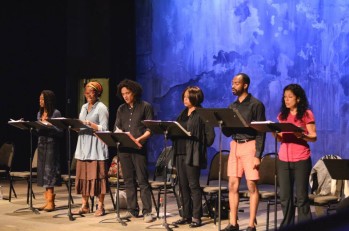 Your show will be seen by hundreds of producers and regional theaters who are rooting for you to succeed.  They're hoping to find the perfect fit for their next season in the two days of the festival, and that show could be yours.  Presenting your musical at NAMT means opportunity is not far behind.  It's recognition that you've created something that ought to be seen and to be shared.  Suddenly, you have access to a magical kitchen.  Now that you're in and confidently aproned, what will you make?
Wait… We've already made a show that the committee liked.  That's why we're here, right? 
Kind of.
Because it's time to ask yourself what you're going to plate up for the NAMT festival. Acceptance into NAMT unearths questions and considerations for its writers far beyond structure and song moments.  Now that we've written our show, we have to pitch it at the festival.  Pitch it.  Push it.  Sell it.
Who's the audience?  What's the draw of this show?  Is it the gospel/folk-rock score?  The chilling ghost story?  What characters are vital?  Do we emphasize the historical/period element or draw attention to the present-day Ferguson, "post-race" political relevance?  And how do those answers inform what we are going to do in the 45 minutes we've been given in the magical NAMT kitchen?
Ah, the 45-minute cut!
Think of an elevator pitch as an amuse bouche.  A synopsis is perhaps a soup.  Telling your musical in 45 minutes is a whole other beast.  It must be a steak.  Acceptance into NAMT means we've dissected every page of our musical.  What is bone, what is meat, what is fat?  What is essential in the story?  What lean, savory, finger-licking 45-minute cut will be tastiest on the NAMT plate and on the producer palate?
The most difficult cut for us to make was losing the love story in The Last Queen of Canaan.  The romance is simple and secondary to the main action concerning the Skye family, but it provides a respite from the family tensions and a necessary dash of hope — with love there's always hope!   Hope plays an important role, but as a side dish. The Last Queen of Canaan is about legacy, breaking down cycles of abuse, releasing the past and moving forward.
We've learned so much about our musical by making the 45-minute cut. Many of the cuts we've made for the NAMT presentation have made it into our full-length draft.  Every casting/cutting/logistical session we've had with our NAMT team has reinforced what is essential to our show.  This will ultimately allow us to communicate the show's merits and find the right people to produce it.
So yes, acceptance into NAMT widens the scope of opportunities available to a new musical.  But perhaps even more importantly, it allows us writers a narrower look into our stories and helps us discover what we actually wrote.