Last month, we caught up with alumnus Joe Iconis as he prepared his 2011 Festival show, Bloodsong of Love, for a new immersive presentation at 54 Below on October 20.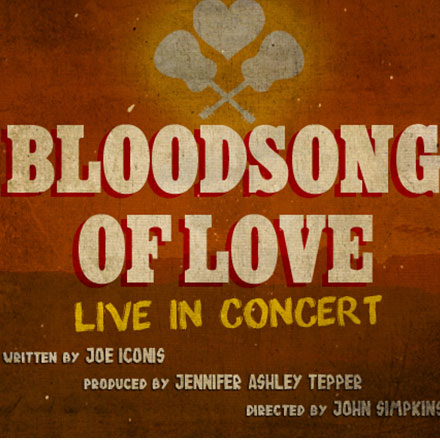 A wild musical theater interpretation of the Spaghetti Western film genre.   It follows the story of a wandering guitarist, known only as The Musician, on a journey to reclaim his bride from the evil clutches of Lo Cocodrilo.  Raucous, heartfelt and hilarious, Bloodsong is a raging battle cry for those who believe in art and love and sticking together.
What was the response to Bloodsong of Love after the Festival? 
It was really encouraging to hear the positive reactions of audiences and NAMT members. I met a rather large bearded man in the lobby of New World Stages and he said it was pretty good, so that was nice.
What did you learn from the Festival process and what changes have been made to the show since? 
By cutting down the show to a 45-minute preview, it helped us see what the most "important" moments were in a very clear way. When you've got to encapsulate an entire musical in a third of its own running time, songs you thought defined your entire piece suddenly seem less essential. It was a great exercise in forcing myself to be un-precious about my own work. I've done a ton of script work since then, and I think that's it's not only different but better.
The thing that has always been special about the show is that it is versatile in the ways that it can be presented. Was that intentional from its creation or something that evolved with the piece?It was definitely something that evolved. I guess I always imagined that the show would "overtake the space" wherever it played, but I think the more [director] John Simpkins and I have worked on the piece, the more its versatility has become integrated into the script. Part of the beauty of the show is that it can feel at home in a traditional proscenium space, a bar, a barn or an abandoned Haunted House at your local theme park.
Bloodsong of Love is going to have a special one-night, two-performance event at 54 Below on October 20 (just days before this year's Festival). What brought you to create an immersive version of the show to the supper club venue? 
The show played a workshop run of a few weeks at Ars Nova in 2010 and hasn't been on a stage since. The script has developed quite a bit, but at its heart, it's still the same show. Of all the things I've written, Bloodsong is my favorite and I truly believe it has the potential to live on in a grander way. I don't think it has had its ultimate New York production yet. This concert version at 54 Below is, hopefully, the first step in its journey towards the show getting its dream production on the island of Manhattan.
What are your hopes for the show after the October presentations?
I'm hoping that a brave and brilliant producer thinks this show has an energy and a sound and a structure and a cast that are completely unique and a breath of fresh air in the world of new musical theatre. I'm hoping this producer thinks this musical should have a commercial production in New York. I'm hoping that production is a critical hit and is swept up onto a Broadway stage. I'm hoping that the Broadway production is embraced by the sort of people who went to see shows like Once, and Hedwig, and Next To Normal, and movies like Django Unchained and Sin City. I'm hoping the musical wins seven Tony Awards and that famous people make a movie version that does OK business. And I'm hoping that they do Bloodsong in every high school across America and illegally change all the naughty words to less naughty words.
For more information about the show, please click here.