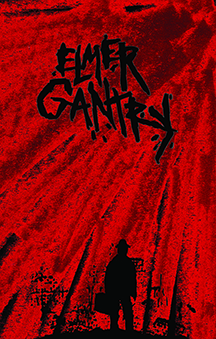 This month, we check in on Elmer Gantry from our 1993 Festival of New Musicals as it prepares for its upcoming revised production at Virginia's Signature Theatre. Composer Mel Marvin has been hard at work preparing the show for this next step.  

Elmer Gantry is a musical with a country-pop-gospel score, set in the Depression-era Midwest. The title character is a down-on-his-luck former minister whose life as a traveling salesman takes an unexpected turn when he walks into the tent of Sister Sharon Falconer, a beautiful and charismatic woman evangelist. Joining her troupe, he's soon preaching again and using his entrepreneurial instincts to make the troupe so successful, it's invited to play Zenith, the biggest city in the Midwest. He also becomes Sharon's lover. Their success in Zenith leads to opportunity, intrigue, tragedy and reaffirmation of Americans' ability to deal with their circumstances and get on with their lives. The musical is adapted from the novel by Nobel Prize-winner Sinclair Lewis.
The original version of the show appeared in our 1993 Festival, having been originally commissioned by Ford's Theatre and presented there in 1988. What was your Festival experience like back in 1993 and what kind of response did you get from your presentation of your show?  
There was a second production of the show in 1991, before we did it at NAMT, at La Jolla Theatre, directed by Des McAnuff. In 1993, we had a wonderful time at NAMT, and we felt the presentation was very successful. Several theaters showed interest. Frankie Hewitt, the producer of the show at Ford's Theater in 1988, decided to revive the show at Ford's in 1995 in a production directed by Michael Maggio. After that production, there was a New York City workshop in 1997, directed by James Lapine, and an outstanding production in 1998 at the Marriott Lincolnshire Theater in Chicago, directed by Eric Schaeffer.
 
It is rare for a show to be rediscovered so many years after it was first presented. Where did the idea for a new production come from? 
Eric Schaeffer, who has been a friend and promoter of Elmer Gantry since he directed it in 1998, always wanted to do another production of the show, and he called us to say he would like to make it part of the 25th Anniversary Season at the Signature Theatre in Arlington.

How much rewriting/reworking will there be of the script? 
Part of the renewed interest in Elmer Gantryis that there IS a rewrite. There are a substantial number of changes in Act 2, both in the book and in the songs. We believe this is the best version we've ever done, and we can't wait to see it onstage. Several numbers have been reworked, and there are two entirely new songs. It has now been 15 years since the last production, and the new version has been waiting in the wings. Work is still going on and will be, from now through the rehearsal period. What could be better?
 
What are your hopes for this new production?
We feel incredibly lucky to get to revisit this musical, which has been one of the most important works in all of our lives. We've all been around the block too many times to think beyond doing the best work we can to make this a great theatrical experience for the audience. That's our best hope.  
 
Why should people come down to Virginia to catch this exciting new production of Elmer Gantry? 
What makes Elmer Gantry so theatrical and exciting as a project is not only the richness and relevance of its source material but, over the course of four regional productions, a New York workshop and many years in the lives of its creators, the way the show has evolved. The Signature production is the culmination of a long and unusual journey. We hope that the result will provide audiences with the depth and satisfaction of a passionately felt, entertaining American musical.
 
For more information about Elmer Gantry, please visit www.signature-theatre.org.