An interview with the writers of The Trouble with Doug, Daniel Maté and Will Aronson, about the developments on their 2010 Festival show as it prepares for a production at NAMT member theatre Arts Garage down in Florida this spring.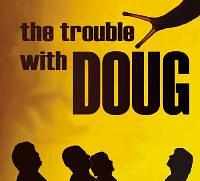 A contemporary re-imagining of Kafka's "Metamorphosis," The Trouble With Doug is a hilarious and moving new musical about a healthy young man who transforms inexplicably into a giant talking slug. Thrust together awkwardly under the same roof, Doug, his family, and his fiancée all struggle to understand and respond to this strangest of crises.
Last time we checked in with you, Doug was heading to Palo Alto, CA for TheatreWorks' festival. How was that process for you and the show?
We had a great time in Palo Alto. TheatreWorks provides a unique workshopping opportunity – a chance to perform the show in front of an audience, rewrite, re-tech, perform again, and then repeat that process three times. You can really take the show into the laboratory and experiment. (There's really no better way to see what works and what doesn't than to watch the show in front of actual people a few times!)
What changes did you make to the show while in California?
After watching the show, we felt that our titular character was under-developed — so we added several new musical moments for Doug throughout the first act to clarify his arc and round him out a bit more. We also tried out a number of new scenes for Doug's family, and also ended up with a slightly gentler ending.

You are currently rewriting the show for a production down at Arts Garage in Florida. What are your goals with this rewrite?
We've both been busy with several different projects, so this is a great opportunity to get back into Doug world and implement the changes we've long discussed. Aside from continuing to flesh out the rewrites we began in Palo Alto, we're excited to upgrade the score so that each song moment is as dynamic and memorable as possible! In addition, true to that old musical adage that openings often come last, we're writing an entirely new opening— replacing a song we've had for a long time with what we hope will be a new and more energetic start to the show.
What are your desired next steps for the show after Florida?
It might sound strange to say when a show is about a giant talking slug and his crazy family, but we've felt, especially since TheatreWorks, that we have the basis here for a really accessible, crowd-pleasing show, one that could connect with a lot of different audiences and fans of new musical theatre. We'd love to get more theaters interested in the piece, and hopefully license it. A New York production would also be fabulous of course!

Why should people head down to Florida to check out The Trouble with Doug this spring?
We've got a great local director (Margaret Ledford), a terrific cast, and a band that features some fun low woodwinds and a cello. Come check it out! It'll be slugular, we promise.
For more information about the show, please visit www.artsgarage.org