An interview with Ann-Carol Pence, Associate Producer of Aurora Theatre, about their upcoming production of
The Unauthorized Autobiography of Samantha Brown
, by Kait Kerrigan and Brian Lowdermilk.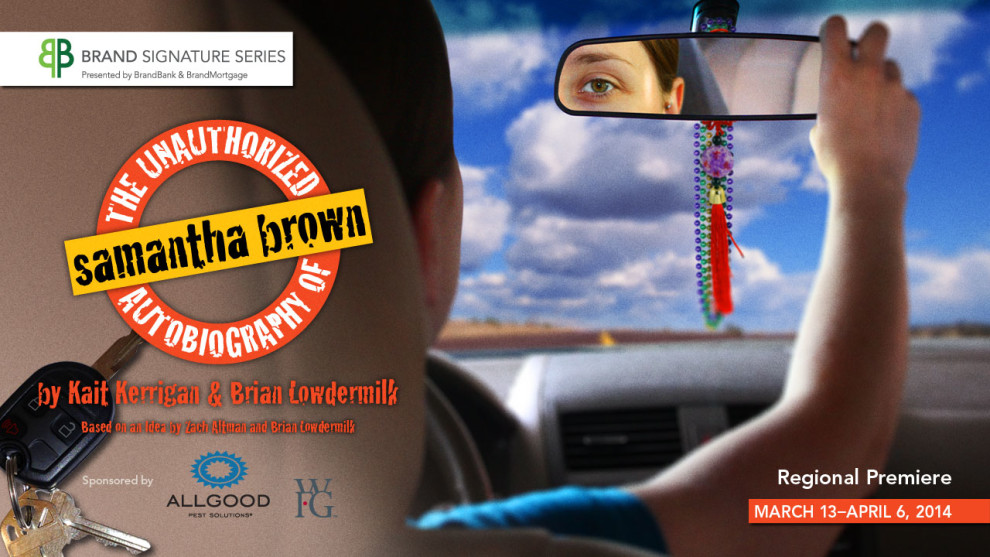 Sam is a girl who has what every teenager wants: brains, a boyfriend, functional parents and an acceptance letter to the college of her choice. Yet, she sits in her car with her bags packed and can't turn the key in the ignition. At a crossroads, Samantha must come to terms with her parents' expectations, her first love and a lost friendship before she can start the car, drive away and find freedom!
How did
Sam Brown
find her way to Aurora?
Anthony [Rodriguez] and I are avid new musical followers; moreover, I am personally excited by composers, so I have followed Brian Lowdermilk pretty closely. He is just a powerhouse songwriter. Some of his songs are the type of great new material that singers are singing for cabarets so I already knew tunes like "Run Away with Me." When I heard "Freedom," I can remember weeping in my office. It was unbridled joy of two girls in a car singing at the top of their lungs. How I remember when I was that girl!
We immediately contacted them and then came a long two-year journey of agents and producers that I will not bore you with. Suffice it to say, the way you get to do new musicals is that you must be very persistent and confident beyond belief that you can make a difference.

What drew you to the show?
It is a story of possibility. I love shows that look at the world from a young person's view and shine a light on what could be. Kait & Brian are on that same precipice. They have the opportunity to be the next great musical writing team of this generation. Anthony & I want to bank on those composers that have limitless possibility!
Has anything changed on the show since it was produced at Goodspeed Musicals two summers ago?

Kait & Brian have done some rewrites, but what we are inspired about is that we give the authors a chance to work on their piece while we are producing it. If we thought the piece was finished, we would have given that opportunity to another show. I know Kait & Brian are most interested in working on set & tone for this show, and the tone of a piece is created as a result of what their words and music evoke.
It was interesting to hear them say they may not want applause after numbers. I find that fascinating because I adore applause. I believe it is the wonderfully unique device in musical theatre. In a play, an actor can deliver this riveting monologue that paralyzes us, but we rarely intrude on the moment by applauding. Musical theatre gives audiences the chance to enter the conversation. Applause says to that character—"Me too," "That's how I feel," "Breathtaking!"—all by just a gesture of putting hands together. That is magical to me.

Why is Sam Brown a great show for your theatre and audience?
We live in an area that boasts a great public school system. We have a major partnership with Georgia Gwinnett College. Education is everything. But many young people are not achieving all that they are meant to achieve because they are afraid and feel they are the only people who have ever experienced that debilitating fear. Through great shows written about "possibility," we can look back on that time and recognize that we were once in that place, use that insight and choose to influence the next generation of leaders. We do that with our Apprentice Program. We want to do that with our high school students. They deserve to ride on our backs!

Why should people swing by Lawrenceville, GA to catch the show?
The critically acclaimed Aurora Theatre is the fastest growing theatre in the Metropolitan Atlanta area and the only professional theatre in Gwinnett County. We have a beautiful new facility and a large season ticket base. Recently, we received 7 Suzi Bass Awards (Atlanta's version of the Tonys) for our work, the most of any theatre in the region. We are dedicated to using our success to further the success of new musicals, to pay it forward. We feel we can offer the most support by giving composers the opportunity to hear their music performed by a live band instead of just a rhythm section. Atlanta has a long history of supporting musicals and Aurora provides musical theatre lovers the chance to see great musicals before they go to Broadway.

For more information on The Unauthorized Autobiography of Samantha Brownn, please visit www.auroratheatre.com.