An interview with Center Theatre Group's (CTG) Associate Artistic Director, Kelley Kirkpatrick, about their upcoming production of
The Black Suits
by Fest Alumnus Joe Iconis (
Bloodsong of Love
, '12) and Robert Maddock.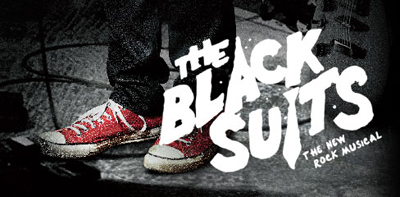 Every rock and roll fantasy begins in a garage. Scattered among the drums and guitars are the hopes, dreams, angst and rebellion of a new generation screaming to be heard. Joe Iconis takes us behind the music as four teenage Long Island misfits band together to escape Garden City, to conquer the world, to be "cool and whatever." Now if the Black Suits can only win the St. Anne's Battle of the Bands, their friendship just might survive the perilous transition to adulthood. The Black Suitscelebrates the wannabe rock star in all of us: with a score that sends us out of the theatre singing and longing to be eighteen again.

How did The Black Suits find its way to CTG?
I first became aware of TBS after seeing Bloodsong of Love at the NAMT Festival in 2011. I spoke with Joe and his agent, Scott Chaloff, briefly after the NAMT presentation, as I wanted to let them know how much I enjoyed it. Scott followed up (like a good agent always does) with me the following week and we had a long conversation about Joe and where he was in his composing and writing career. While ultimately I didn't feel that Bloodsong of Lovewas quite the right fit for CTG at the time, I thought Joe was a tremendously gifted composer. Scott sent me The Black Suits to read along with a few of the songs from the show.
After reading and listening to it, I thought The Black Suits showed a lot of promise, but CTG wasn't in a position to produce a new musical in the upcoming season, so I had to pass (for now). I asked Scott if he could arrange a meeting with Joe and me in order for us to get to know each other a bit more; sort of like an artistic first date between composer and not-for-profit institution. Joe and I had a terrific meeting discussing his past and future projects as well as ideas he had for future shows. I felt that Joe would be an exciting artist to share with CTG's audiences in Los Angeles and we agreed to stay in touch and look for the right opportunity to work together in the future.
Fast forward to the fall of 2012 and Scott Chaloff called and asked if I would look at a new draft of The Black Suitsas they had just completed a developmental production at Barrington Stage Co. I read it right away and was very excited by the work that had been accomplished since the last draft. I immediately passed it on to Michael Ritchie and asked him to read it and consider it for the 2013/14 season at the Kirk Douglas Theatre.

How does the show fit into CTG's overall new works programming?
At any given time, CTG has 5-7 plays and 2-3 musicals in various stages of development. Whether they be commissioned, submitted or discovered, CTG has the great luxury of working with a very wide vocabulary of new works due to our three unique theaters. CTG can go from a new musical by Kander & Ebb (Curtains) at the Ahmanson, to Michael John LaChiusa & Ellen Fitzhugh at The Taper (Los Otros) and finally to Alex Timbers and Michael Friedman (Bloody Bloody Andrew Jackson) at the Kirk Douglas.
We decided to present The Black Suitsat the Kirk Douglas as that serves as our primary home for early and mid-career artists that we want our audiences to develop a long and lasting relationship with.

CTG has been very active on working on the show including readings and a workshop. How does CTG make a plan on how to specifically develop each show and why was this course chosen for this show?
Once Michael gave the thumbs up to start moving forward with the show, I met with Joe and John [Simpkins, director] to discuss next steps. At CTG, we tend to let the artists chart their own course while we remain at the ready to support, advise and keep them from running into the rocks when needed. I asked Joe and John one question: "What do you need?" It is my favorite question to ask any artist. We ended up doing a two-week workshop focusing on the book while starting to explore the choreography (with the incredible Jennifer Werner). Prior to this, they had never had the opportunity to spend a prolonged period of time just working on the script with actors. Before the workshop began, we had several note sessions and generated a list of the areas of the script we wanted to focus on during the workshop process.
In the end, the workshop taught us a lot about the show, but we agreed that there was still more work to do. We didn't have the script we wanted to start rehearsals with. So, we gathered again for a lengthy note session and decided to do a one-day "work session" with actors. We spent the morning of the work session putting in new pages, reordering songs and trying out new ideas that came out of the prior two-week workshop. That afternoon we read the script for the creative and production team as well as CTG's commercial producing partner. A week after the one-day work session, the team gathered for one final note session prior to going into rehearsals. We now felt that we could begin rehearsals with a script that allowed Joe and John to focus on getting the show up in front of audiences and less on "fixing" the script. Of course, there will still be things to address in rehearsals, but the heavy lifting was finished.

What are your hopes for the show while it is at CTG?
I simply want to give our audiences the best show possible. I can't wait for them to "meet" the incomparable Joe Iconis and the insanely talented team behind The Black Suits.

Why is this show a good match for your LA area audiences?
This show is right up our audience's alley at the Kirk Douglas Theatre. They are always up for a new voice and new experience. They love to be challenged and entertained and be the first to see and hear the next generation of theater artists.

Why should people hop over to CTG to catch The Black Suits this fall?
Because for any NAMT member who comes I will personally buy a drink at the bar and regale them with stories of new musical development!

For more information on The Black Suits, please visit www.centertheatregroup.org.