New Musicals Month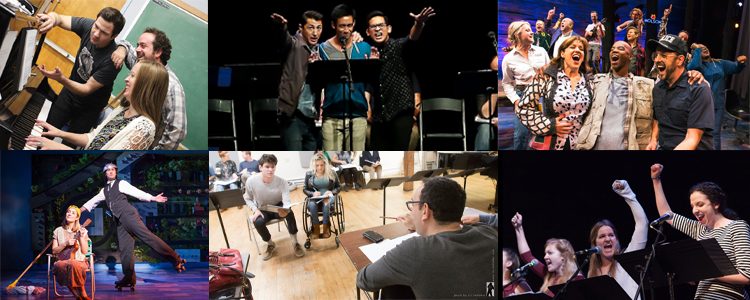 Our upcoming 30th Annual Festival of New Musicals gives us a great opportunity to celebrate and honor the groundbreaking work our members do year-round to develop new work. This September, NAMT will host a month-long New Musicals celebration to feature the new works development happening across the membership.
The New Musicals Month with feature musicals developed at any time in 2018 leading up to the Festival. The development activity can be anything from an internal table read to a full production.
In September, we will feature your new musicals on our platforms and demonstrate the power of the NAMT membership pipeline! We will provide you with social media handles and content to share with your audiences about the role your work plays in the larger context of new musical development and NAMT's network.
The goals of this initiative will be to:
Spotlight the global development work happening across the membership and put greater visibility on the importance of the NAMT network in that development
Support NAMT members by providing additional tools for audience engagement around new works development
Show the world the power of our pipeline! Gather photos and other media of these efforts to share online and at the 30th Annual Festival of New Musicals
Please use the form linked below to submit photos, media and details about your projects. If you have not yet completed the project you'd like included in New Musicals Month, use the form to tell us what project you plan on developing, and when you will be working on it.
Only shows produced by NAMT members or written by NAMT Festival Alumni will be featured in New Musicals Month.
Submit Your New Musical Information
Photos, clockwise: On The Eve (Fest '15) at La Jolla-SDSU, photo by Kalie Christensen; Costs of Living (Fest '15) at Village Theatre, photo by Sam Freeman; Come From Away (Fest '13) on Broadway; Factory Girls (Fest '09) at 11th Hour Theatre Company; Soho Cinders (Fest '16) at the NAMT Festival of New Musicals, photo by Ric Kallaher; Benny & Joon (Fest '16) at The Old Globe, photo by Jim Cox.
This page was last updated on 05/29/2018