Home » Musicals »
Back to the 35th Annual Festival of New Musicals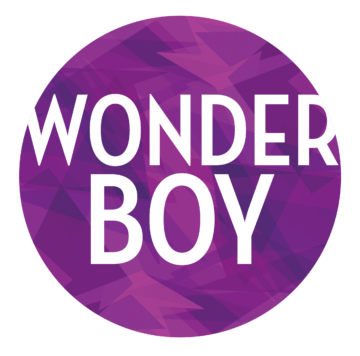 Wonder Boy
2023 Festival
Director
Bo Frazier
Music Director
Anessa Marie
Contact for Rights
Lucy Powis | A3 Artists Agency | lucy.powis@a3artistsagency.com
---
Number of Acts: 1
Number of Principals (Male): 1
Number of Principals (Female): 2
Number of Principals (Trans / GNC): 2
Preferred Ensemble Size: 10
Total Cast Size: 14
Orchestra Breakdown:
Keys
Guitar (Acoustic/Electric)
Electric Bass Guitar
Drums (Kit)
Violin 1
Violin 2 (optional)
Cello (optional)
Casting Notes:
While preferred ensemble size is 10, Wonder Boy can be performed with as few as 4 ensemble members.
Genre & Style:
---
---
Synopsis
Jackson is recovering from a break up, growing apart from his twin sister, and attempting to find a new normal in his identity as a transgender man. When he ingests an experimental drug and transforms into a superhero, he learns that protecting others is more complicated than he thought.
Development History
Wonder Boy premiered in 2018 as a staged reading at Wow Café Theatre, followed by a staged reading with New York Musical Festival. In 2019, Wonder Boy was selected for development through Musical Theatre Factory, and received a staged reading in 2020. From 2020-2021, Wonder Boy was developed through Theatre Now New York's Musical Writer's Lab. In 2022, selections from Wonder Boy were presented in concert at Joe's Pub, produced by Musical Theatre Factory. Most recently, Wonder Boy was produced by The 5th Avenue Theatre as a radio play.
5 Things You Should Know
I started writing Wonder Boy with the simple goal of creating a musical about a transgender superhero, but over the past seven years it has evolved into a piece about caring for others, and accepting the care others extend to you.
Wonder Boy's score welcomes vocal diversity – it includes songs that function in multiple keys, alternative melody lines that support the text as much as the original melodies, and harmonic vocal arrangements that accommodate unique voice types without sacrificing emotional truth and musical excellence. This opens up the doors to many different trans actors playing the roles of Jackson and Ellis, regardless of their current voice type. As I continue to develop the piece, my goal is for Wonder Boy's score to function like a puzzle that can be put together with a different assortment of pieces in an infinite amount of ways.
Wonder Boyhas been developed with Musical Theatre Factory, Theatre Now New York, The 5th Avenue Theatre, and with lots of friends over beer and pizza in my living room! After NAMT, I hope to work with a regional theatre or Off-Broadway theatre that's passionate about uplifting nuanced and joyful transgender narratives.
Wonder Boyis inspired by several superheroes, but Spider-Man is the most influential. Some of my favorite research for Wonder Boyhas been re-watching all the Spider-Man films that have been produced in the last 21 years. (We're at ten Spidey films in total now, not counting the three other Marvel films he appears in.)
Through the process of creating Wonder Boy, I had the privilege of receiving feedback from many members of the trans/non-binary/gender-expansive community. One of the most significant changes from this feedback was the complete removal of reference to Jackson's physical transition as a transgender man (which once served as a crucial plot point). While this shift was challenging, it ultimately allowed me to create a more dynamic and compelling character arc for Jackson.
Excerpts