Back to the 26th Annual Festival of New Musicals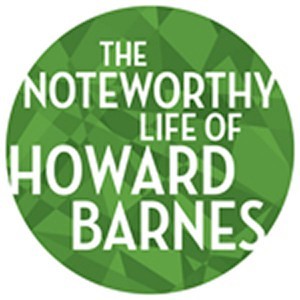 The Noteworthy Life Of Howard Barnes
2014 Festival
Director
Lonny Price
Music Director
Andy Einhorn
Cast
Andi Alhadeff, Courtney Balan, Jenni Barber, Todd Buonopane, Natalie Charlé Ellis, Josh Grisetti, Mitch Jarvis, Lesli Margherita, Joel Perez and Sergi Robles
---
Number of Acts: 1
Number of Principals (Male): 2
Number of Principals (Female): 2
Preferred Ensemble Size: 8
Total Cast Size: 12
Orchestra Breakdown:
Currently orchestrated for piano, ideally for a mid-sized traditional theater orchestra
Casting Notes:
4-6 ensemble
Genre & Style:
---
---
Synopsis
Howard Barnes is a perfectly average, if emotionally repressed, man in his early thirties. That is, until the day that he wakes up to discover that his life has become a musical. Desperate to escape from the show, and get his normal life back, Howard teams up with Maggie, an aspiring actress who works in his office. Together, the two embark on a fantastical quest through the realm of musical theater. Along the way, Howard discovers that he must let go of the past and open himself up to the possibility of love. In doing so, he learns to embrace the music. Equal parts satire, romantic comedy, and love letter to the American musical, The Noteworthy Life of Howard Barnes is intended for people who love musical theater, and their spouses who hate it.
Pithy and clever, this show is both delightful and a bit daffy. This is a show for people who love musicals, and perhaps for those who love to hate musicals. It will make you laugh out loud while hitting close to home for everyone.

- Festival Committee
Festival Successes
Goodspeed Musicals (CT) Festival of New Musicals 2015. Production at Village Theatre (WA) 2018. World premiere recording released September 2019.
5 Things You Should Know
We will be continuing to develop the show at the Goodspeed Festival of New Musicals, where we plan on ironing out the last few dramaturgical trouble spots. We feel that the best next step for the show is a regional production and/or the involvement of a commercial producer.
Though the show makes use of a number of references to specific musicals, the overwhelming feedback we've received from audiences is that such references do not inhibit the enjoyment of those who are not well-versed in the musical theatre canon.
The show is a comedy, but the thing that has kept us invested in it from the beginning is its heart.
We were instantly enamored with the concept of a man who found himself trapped inside a musical, but it was also really important for us to find the meaning behind Howard's metamorphosis, to explore the emotional journey beneath the amusing conceit.
Our favorite things you won't be seeing in the 45-minute presentation include a Defying Gravity moment, puppet violence and a plot twist that reveals why Howard's life has been musicalized.