Home » Musicals »
Back to the 31st Annual Festival of New Musicals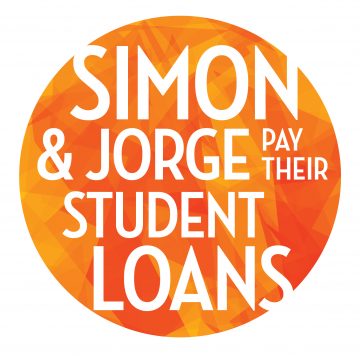 Simon & Jorge Pay Their Student Loans
2019 Festival
Director
Amy Anders Corcoran
Cast
Jerry Gallagher, Alan H. Green, Jorrel Javier, Celeste Rose, Cody Strand, Alet Taylor, Natalie Toro, Alan Wiggins, Jason "Sweet Tooth" Williams and Nick Wyman
Contact for Rights
Jesse Gage, www.jessegage.com, jessebgage@gmail.com, (917) 399-4881
---
Number of Acts: 1
Number of Principals (Male): 2
Number of Principals (Female): 2
Preferred Ensemble Size: 11
Total Cast Size: 15
Orchestra Breakdown:
Drums, guitar (switching between electric and acoustic), bass, piano, violin and cello
Genre & Style:
---
---
Synopsis
In life, we face many seemingly unanswerable questions. Why are we here? How does WIFI work? Why has there never been a stoner bromance rock musical about the impending student loan crisis and ever growing income inequality gap? Well ask no more. Behold: Simon & Jorge Pay Their Student Loans.
Development History
The seed for the show was planted in 2016 when Jesse and his graduate school writing partner needed an idea for their thesis musical. Jesse's partner suggested adapting the story of Burke & Hare, two nineteenth century killers that sold their victim's corpses to medical researchers. While that idea was ultimately scrapped, it did get Jesse thinking, and eventually led to the concept for Simon & Jorge. He began writing the show in the summer of 2017 and did not leave home until it was done the following fall. This will be its first public performance.
Festival Successes
Commercial option. Animated musical comedy show adaptation.
5 Things You Should Know
After graduating with a degree in musical theater writing, I was faced with two problems: what should I write a show about, and how was I going to pay my student loans. I'm hoping this project offers a solution to both of these problems.
The story of Simon & Jorge excites me not just because it's a raucous and outrageous satirical romp, but because it also tackles a real problem facing millions of Americans spanning multiple generations. In fact, of the 44 million student loan borrowers (and $1.52 trillion of debt), nearly five million are over 60 years old. It's a story that strikes a nerve with a wide audience base. Bad for America, good for the show.
While the show certainly has many of the trademark qualities of the classic stoner bro/sis-mance comedies (Broad City, Harold & Kumar, Bill & Ted), it also has a heartfelt side that gives theatergoers that warm and fuzzy feeling we all love.
My aim with the score was to provide moments of true rocking out, mixed with numbers of a more traditional musical theater style, again offering something for the younger generations and the less younger generations.
While the show can be done with a relatively small cast of nine or ten, it also contains a number of scenes that could utilize a larger ensemble for those productions working with a bigger cast.
Excerpts