Home » Musicals »
Back to the 23rd Annual Festival of New Musicals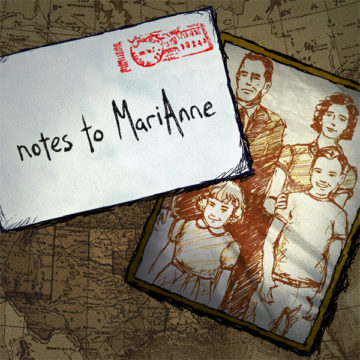 Notes To Marianne
2011 Festival
Director
Jeremy Dobrish
Music Director
Chris Fenwick
Cast
Stephen Bogardus, Haley Bond, Charlie Brady, Will Erat, Santino Fontana, Megan Lawrence, Vasthy Mompoint, Rachel Stern and Ken Triwush
Contact for Rights
For more information about NOTES TO MARIANNE, contact: Robert Duva, 212-243-7845
---
Number of Principals (Male): 3
Number of Principals (Female): 2
Preferred Ensemble Size: 9
Total Cast Size: 14
---
---
Synopsis
Sometimes we leave someone we love. At 12 years old, Johnny ran away from home, leaving behind his sister MariAnne — a regret he can't shake. That was in 1952. Ten years later, the estranged pair are swept into a series of extraordinary events that will bring them to a pivotal reunion  The set is sparse yet the story stretches from Brooklyn to Kansas. The cross-country journey rides a wave of American pop music, from early '60s rock to '30s saloon songs to contemporary beats and melody. A modern fairy tale, notes to MariAnne explores the consequences of leaving those we love and finding new hope in the most unexpected places.
Development History
notes to MariAnne was seen in concert at Joe's Pub and had several closed readings before 2007, when the show was welcomed to the O'Neill Center's National Music Theatre Conference, where Rossmer & Lipton received the Holof Award for their lyrics.  In 2008, the show was seen at New York Stage and Film's Martel Musicals series as part of the Powerhouse Theater season at Vassar.
Festival Successes
Reading at New York Theatre Workshop (NY) in 2012 and Amas Musical Theatre (NY) in 2013.
5 Things You Should Know
The show tells a simple story of emotional complexity, exploring the consequences of leaving someone you love.
After being developed at NY Stage and Film and The O'Neill, notes to MariAnne is ready to be realized on stage.
notes to MariAnne belongs on the continuum of modern contemporary pop/rock musicals that feel larger than their small cast and minimal set (Next to Normal, Spring Awakening).
The central character of MariAnne exudes an honesty and optimism consistent with the early 1960s setting. This bright optimism is reflected in the score, which captures that time but also reaches back to saloon songs and dustbowl folk, and forward to arena rock and modern grooves.
It's not your grandma's musical. . .but she'll still love it. Through its development, the show has proven to appeal to both young fans of Twilight as well as older theatergoers who find the original story compelling. Both audiences appreciate that a gritty tale is presented with unexpected humor, that poetic lyrics are delivered without sentimentality, that the plot unfolds in non-linear fashion.