Home » Events »
How Do We Go Forward Together From Here?
July 13, 2021,
2:00 - 5:00 pm

ET
Online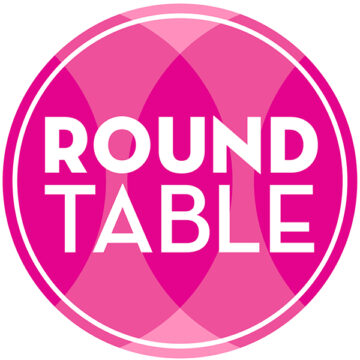 During the reopening, we have an unprecedented chance to support each other as we enact the changes we imagined during the shutdown. With that in mind, the theme of this year's Writers Roundtable will be How Do We Go Forward Together From Here? We'll be discussing topics like creating equitable rooms, enhancing audience access, articulating our day-to-day financial needs, and striking the right balance between live and digital projects.
Agenda
Tuesday, July 13, 2021 (All times ET)
2:00 - 2:15 pm
Welcome
2:15 - 3:00 pm
The What: The Work We're Eager to Make

As we re-enter rooms together, how do we make space for the work that most excites us? How can we pursue in-person projects in a manner that feels safe and well-resourced? How can we balance those projects with online pieces? And by the way, what is the right balance of in-person, online and hybrid work?

Facilitated by Anika Chapin (Goodspeed Musicals) and Paulo K. Tiról (Fest 20′, On This Side of the World)

3:00 - 3:45 pm
The How: The Way We Want to Make It

How are we going to change the rooms we re-enter? What are we going to ask for to feel safe and supported? What are we going to provide to others? How are we going to practice anti-racism? How are we going to rethink the profession's work-life balance? Who's already addressing those questions in a nourishing way, and how we can we learn from them?

Facilitated by Aislinn Frantz (Chicago Shakespeare Theater) and Cheryl L. Davis (Fest '08, Barnstormer)

3:45 - 4:00 pm
Break
4:00 - 4:45 pm
The Who: The People We Invite to Join Us

How can writers and producers work together to push for new forms of audience access? How can we reach the people our field has too often ignored or alienated? How can we invite them to see our work, and how can we include their voices as we choose which stories to tell?

Facilitated by Marguerite Hannah (Horizon Theatre Company) and Timothy Huang (Fest '15, American Morning, fka Costs of Living)

4:45 - 6:00 pm
Closing Comments/Farewell
As of 6/17/21. Subject to change.
Guidelines
Participation Guidelines
NAMT is committed to recognizing and celebrating the diversity of experiences, talents, skills, cultures and opinions that our members bring to our community, and specifically to our events. We invite you to participate in the Writers' Roundtable in a spirit of open-mindedness, curiosity and respect.
We want every NAMT event to be a safe, inclusive and productive environment for all participants. In that spirit, we ask you to…
Be inclusive, actively seeking and inviting diverse perspectives
Listen to understand
Participate in an active and direct way, with professionalism and respect for others
Be considerate, kind, constructive and helpful in your language and actions
Refrain from demeaning, discriminatory or harassing behavior and language
Respect confidentiality requests by speakers and other attendees
NAMT staff and Board may take action (up to and including expulsion with no refund and exclusion from future events) to redress disruptive, disrespectful or offensive behavior or any other actions deemed in conflict with the above guidelines.
Thank you to every NAMT community member for helping to make all of our events informative, inclusive and respectful.
About Hopin
Hopin is the online events platform where the Roundtable will be taking place. We think it's pretty easy to navigate once you're inside but we also know that any new technology can take a little getting used to and we want you to be as comfortable as possible. It may help to familiarize yourself with Hopin a little before we start.
General Tech Tips
An online event uses a decent amount of computer memory and internet bandwidth. Hopin will work on your tablet or phone, but we recommend using a desktop or laptop computer, with an ethernet connection if possible. Chrome is the best browser to use. Close as many other tabs and programs as you can. (If everything is running smoothly for you, you're good to go, but if you run into trouble you can try streamlining a bit.)

If you run into trouble, try refreshing the page. Sometimes things need a little nudge, it's just the nature of this type of software. If you have repeated problems, we're here to help!

There's a clock at the top right of your screen. If it stops, you'll know you're frozen! Try refreshing your browser.

We know some people like to be in two places at once at online events. Hopin doesn't recommend running multiple tabs at once…though sometimes it works fine! You can also log in on multiple devices. There's also a picture-in-picture function on the Stage.

VPNs can interfere with the software sometimes. Hopin recommends turning off your VPN if you have one for the best connection. (If you don't know what this means, you're probably fine!)
Click here for a video tutorial on navigating Hopin.
Navigating
Right Sidebar
On the right, there's a Sidebar with icons of people, a bell (notifications), mail, and your picture or initials. (Click the arrow at the very top to minimize or expand it.)

There is a lot going on here!

You'll see tabs along the top for Chat, Polls and People


Under each of these, depending on where you are, you'll see another set of tabs for Everyone (i.e., the chat or the list of people for the whole event), Meeting Room, Stage or Booth (the chat or people in just the area you are currently in), and Messages (people you have private messages with).
Chat messages from NAMT staff will be highlighted, and we'll "pin" important announcements to the chat window, so keep an eye on these.
You may also receive notifications via the bell icon, and the envelope icon lets you jump right to your direct messages.
Click on the circle with your photo or initials to edit your profile.

We've uploaded the information we collected when you registered, but feel free to edit this or add more.
Adding a photo or a logo for your theatre will help people spot you in the chat and make things feel more personal.
Please note that the link fields (website, twitter, linkedin) have to include http:// or https:// or the profile may not save. This isn't clearly indicated on screen, sorry!

You can use the chat to send a message to everyone, or click on People to find a specific person and send a private message. You can even invite them to a one-on-one video call without leaving Hopin.

As on other platforms you may be used to, use the @ sign before someone's name to tag them in a chat message.

This is also where you'll find important notifications, messages people have sent you and polls throughout the event.
If you're in a session, you'll see chats for both whole event and for just that session; just select the one you want.
Left Sidebar/Rooms

Info/Lobby
On the left are the different "rooms" of the Conference
Stage
Stage is where plenary speakers, panels and presentations will happen. A red dot will appear when something is "live."

If the stream freezes, see if it's paused (mouse-over and look for a play button), or refresh the page
Stage has a picture-in-picture feature if you'd like to click around while the stream is going on.

Mouse-over the video and look for the down arrow icon at the bottom to shrink it. The stream may pause when you change areas, so click it to play again.
Meeting Rooms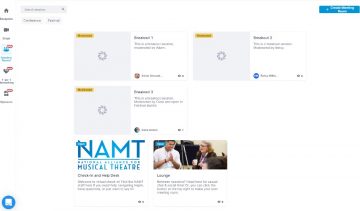 Meeting Rooms is like the lobby of a conference center or New World Stages. You'll see what breakout sessions are happening and can click one to join. An icon on the lower right shows how many others are in each room.

We'll also have a NAMT help desk and a lounge open here at all times.
The rooms show you how many people are in them. Don't be afraid to be first — someone has to be!
Click "Share Audio and Video" if you'd like to join the conversation.

If you're used to Zoom, Google Meet, etc, this will look pretty familiar.
A settings and permissions box will pop up

If you check "Remember my settings for future sessions," you won't have to see this box again. Please note that your device's camera indicator light may remain on even if your camera is not in use; this means that Hopin has access to your camera because you checked this box. Consider not checking this box for greater comfort!


Some sessions are moderated, and you will need to be "let in" to appear on screen. Some are open and you'll appear right away.

There is a limit to how many people can appear on screen at one time, so if it won't let you share audio/video please be patient.
If you're just watching, please turn your camera and mic off so someone else can have a turn,

Click the "Leave" button to turn your camera off.
Speed Networking
Speed Networking is a fun way to meet people. Just click here and see who pops up!

You'll have up to 3 minutes for a one-on-one video chat before being connected with the next random person. (Or click next to move on faster.)
Click Connect if you'd like to follow up with someone. If you both click connect, you'll find each other's contact information on your Connections page.
Sponsors Expo
Last but definitely not least, please visit our amazing Sponsors. These fun interactive booths are a great way to get to know the supporters of this year's Conference, without whom none of this would be possible.
Mobile app
Hopin now has an app! The app is available on iOS and Android.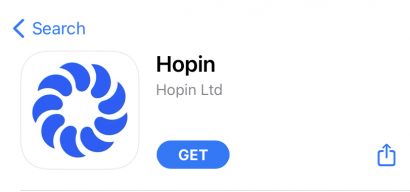 You will be able to attend the conference on the app similar to how you would attend via computer. When in a session or on the stage, you would have the video playing on the top of the screen and the chat/left sidebar functions will be on the bottom.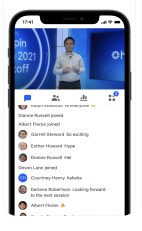 The app is still fairly new and the NAMT staff is still learning how to navigate it. We strongly recommend attending via computer, if possible.
This page was last updated on 07/08/2021