Home » Events »
Great Songs that Almost Made the Cut
October 14 at 6:30 pm
New World Stages, 340 W. 50th Street, NYC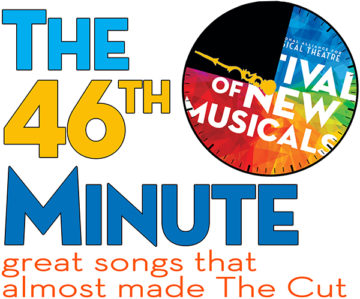 For many years, the NAMT Festival has presented compact 45-minute cuts of eight great new musicals to an industry-only audience. This meant that not only did a lot of great songs fall victim to our time constraints, but the public could not come and enjoy all of these amazing shows…until now!
The night before NAMT's 27th Annual Festival of New Musicals, this year's writers shared some of those amazing songs that were NOT heard at the Festival.  Hosted by Julia Mattison.
With performances by:
Lilli Cooper
Jackson Doran
Jonah Halperin
Chasten Harmon
Raymond J. Lee
Kelvin Moon Loh
Emily Padgett
Postell Pringle
Alexandra Socha
Taylor Trensch
Lauren Worsham
This hour-long concert featured songs by:
Andrea Daly & Jeff Bienstock
Daryl Lisa Fazio & Aaron McAllister
Shawn & Seth Magill
Rebekah Greer Melocik & Jacob Yandura
Timothy Huang
The Q Brothers
Duncan Sheik & Kyle Jarrow
Jeff Talbott & Will Van Dyke
with special extra performances from 
Andrea Daly, Home By Hovercraft, Kyle Jarrow with Lauren Worsham, and Duncan Sheik
Part preview, part therapy…all new music!
"Glide" by Home by Hovercraft
"Glide" written & performed by Home By Hovercraft
"Blessed Highway" from ON THE EVE
"Blessed Highway"
From the musical ON THE EVE
Story by Michael Federico, Shawn Magill and Seth Magill, Music & Lyrics by Shawn Magill & Seth Magill and Book by Michael Federico
Featuring Home by Hovercraft
"Hint of Dawn" from NOIR
"Hint of Dawn"
From the musical NOIR
Music & Lyrics by Duncan Sheik and Book & Lyrics by Kyle Jarrow
Featuring Lilli Cooper
"Invincible" from LIFT
"Invincible"
From the musical LIFT
Music by Aaron McAllister and Book & Lyrics by Daryl Lisa Fazio
Featuring Alexandra Socha and Jonah Halperin
"Avalanche" by Duncan Sheik
"Avalanche"
By Duncan Sheik, from his new album LEGERDEMAIN
Featuring Duncan Sheik & Jason Hart
"Beautiful Monster" by Sky Pony
"Beautiful Monster" written & performed by Sky Pony
"Home" from COSTS OF LIVING
"Home"
From the musical COSTS OF LIVING
By Timothy Huang
Featuring Raymond J. Lee and Kelvin Moon Loh
"The Last Queen of Canaan" from THE LAST QUEEN OF CANAAN
"The Last Queen of Canaan"
From the musical THE LAST QUEEN OF CANAAN
Lyrics by Rebekah Greer Melocik, Music by Jacob Yandura and Book by Harrison David Rivers
Featuring Chasten Harmon
"Know I'm Yours" by Andrea Daly
"Know I'm Yours" performed by Andrea Daly & Band, written by Andrea Daly
Featuring:
Andrea (lead vocals)
Ben Brewer (guitar)
Uri Kleinman (bass)
Dan Pugach (drums)
Shy Kedmi (synth)
Hannah Juliano (backup vocals)
Nicole Zuraitis (backup vocals)
This page was last updated on 11/24/2015