Home » Events »
Marketing in a New Age: How Technology Can Build Your Audience and Save You Money
April 2, 2009
5:00

-

April 4, 2009

4:30 pm
Atlanta, GA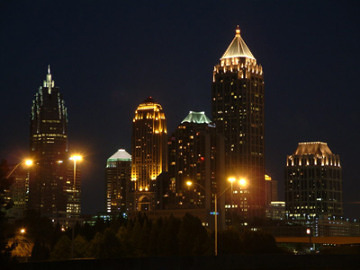 The National Alliance for Musical Theatre is very excited to announce its 2009 Spring Conference, Marketing in a New Age: How Technology Can Build Your Audience and Save You Money, April 2-4 in Atlanta, GA.
This Conference will focus on marketing and technology. Learn tricks and pointers from your colleagues and experts in the field about how the Internet and other high-tech solutions can help you connect with your audience, build a new audience, and save money.
Registration includes:
Two days of panels and networking with industry leaders.
A cocktail party at the Tutankhamun the Golden King and the Great Pharaohs exhibition (in one of only three US stops!), where you will be free to explore the galleries while you network with your peers.
Tickets to Happy Days – A New Musical on Friday night.
Breakfast, lunch and breaks on Friday and Saturday
The lowest hotel room rate for a NAMT conference in 10 years! Just $139 (plus applicable taxes) at the Renaissance Downtown Atlanta.
Tours of Atlanta's famous Fox Theatre.
Discounted admission to the Georgia Aquarium – the world's largest aquarium.
We look forward to welcoming you to ATLANTA in April!
WHO SHOULD ATTEND THE CONFERENCE?
Executive management, marketing directors, press and publicity directors, and Board members. Hear first-hand from your colleagues and experts in the field about the costs and benefits of using new technology. Discuss how technological solutions can team up with old-fashioned ones to connect with your audiences, how to adapt to changes in the media, and see what's on the horizon, all in the heart of beautiful Atlanta. NAMT conferences are for NAMT members and invited guests only.
2009 Spring Conference Committee
Alan Anderson (Broadway Rose Theatre)
Paulette Hopkins (Dallas Summer Musicals)
Arianna Knapp (Senovva, Inc.)
Nick Manos (co-chair, Theatre of the Stars)
Dan McMahon (co-chair, Goodspeed Musicals)
Tara Smith (Playing Pretend)
Ralph Weeks (Walnut Street Theatre)
Agenda
Thursday, April 2
5 pm – 7 pm
Kick-Off Cocktail Party
The Luxor Room
Tutankhamun the Golden King and the Great Pharaohs
Atlanta Civic CenterCatch up with your colleagues and meet new ones at our kick-off cocktail party, surrounded by the luxurious trappings of the Pharaohs in one of only three U.S. appearances of this exhibit.
Friday, April 3
8:30 am – 9:30 am
Registration
Continental Breakfast
The Fox Theatre, Grand Salon + Terrace
9:30 am – 10:00 am
Welcome Remarks
The Fox Theatre, Grand SalonDenny Reagan, President
Kathy Evans, Executive Director
30-Second Savings Stories
The Fox Theatre, Grand SalonIn this energetic, fast-paced session, a representative from each organization has exactly 30 seconds to introduce him/herself and other staff members in attendance, and announce one money-saving (or money-making!) success story from the past season.
10 am – 10:45 am
Keynote Speaker: Eugene Carr
(Founder & President of Patron Technology)
Trends, Technology and Opportunities: The Digital Revolution and the Magnificent Future of Musical Theatre
The Fox Theatre, Grand SalonRemember business before email?  How about before web ticketing? How did you market your shows without a web site?  In just the last ten years alone, all our professional lives have changed dramatically, and in ways we probably could not have predicted.  Many organizations are now selling a third or more of their tickets online.  Email is one of the primary means of communicating, and having a web site is a requirement for doing business today.While these changes may seem dramatic, the next five years will offer even more changes, and that speed of change will be faster and bolder than ever before — providing more opportunities for arts managers.Eugene Carr will speak about the trends, technology and blossoming opportunities on the horizon. This will be an eye-opening and provocative look at the future of the digital revolution and how it will keep changing the future of musical theater.
10:45 am – 11:15 am
Networking Coffee Break
The Fox Theatre, Terrace
11:15 am – 12 noon
The Human Touch: Using Technology to Make Real-Life Connections
The Fox Theatre, Grand SalonHow can your flesh-and-blood staff use technology to respond to and connect with your flesh-and-blood audience?  You know which shows your subscribers loved, you know which ones they skipped.  You know which dates are sold out and which ones need some help.  Now what?Moderated by Ralph Weeks (Walnut Street Theatre), with Nicole Smith (Red Mountain Theatre)
12 noon – 12:45 pm
The Rise of the Machines: Human and Financial Costs of Technology
The Fox Theatre, Grand SalonDoes new technology save your staff time and money or short-circuit your resources?  Panelists share information on effective marketing strategies using new technologies as well as ineffective resources that ran their batteries down. Realistic solutions for companies large and small.Moderated by Alan Anderson (Broadway Rose Theatre) and Dan McMahon (Goodspeed Musicals). With Damian Bazadona (Situation Interactive).
12:45 pm – 1:00 pm
Break
Walk to Dogwood Restaurant
1:00 pm – 2:30 pm
Lunch
Dogwood, 565 Peachtree Street
2:30 pm – 3:00 pm
Fox Theatre Tours
The Fox Theatre
3:00 pm – 3:15 pm
Break
Walk to Renaissance
3:15 pm – 4:00 pm
"Chat Room" Sessions
The Renaissance Downtown Atlanta, 590 WestSmall discussion groups on specific topics.Session 1: Introducing Your Audience to New Approaches
Led by Bernie Griffin (The 5th Avenue Theatre)
You want to do e-blasts, but your patrons have been putting your postcards on the fridge for 20 years.  How do you bring your long-time audience along for the ride as technology evolves?Session 2: Facebook For Beginners
Led by Branden Huldeen (NAMT)
Bring your laptop and create your very first Facebook page. Learn how to use Facebook to market and brand your organization, build your audience, and spread the word about your programs and special offers.
4:00 pm – 4:45 pm
Repeat "Chat Room" Sessions
8:00 pm
Happy Days – A New Musical
The Fox Theatre
Sponsored by Tom McCoy and Bob Boyett, with special thanks to Avid Touring and Broadway Across America.Goodbye gray skies, hello blue! Happy days are here again with Richie, Potsie, Ralph Malph and the unforgettable "king of cool" Arthur "The Fonz" Fonzarelli. Based on the hit Paramount Pictures' television series, HAPPY DAYS – A New Musical reintroduces one of America's best loved families, the Cunninghams, and the days of 1959 Milwaukee complete with varsity sweaters, hula hoops, and jukebox sock-hoppin'.(One complimentary ticket to this performance is available per Conference attendee.)
Saturday, April 4
9 am – 10:30 am
Breakfast + Membership Meeting
Renaissance Downtown Atlanta, Chastain RoomBreakfast begins at 9 am. NAMT's annual Membership Meeting begins at 9:30 and is for NAMT Members only. (All employees of a Member organization are NAMT Members!)
10:30 am – 11 am
Break
Walk to Fox Theatre
11:00 am – 11:50 am
Evolving Media and You: How the Changing Face of Print Media Affects Theatre
The Fox Theatre, Grand SalonCritics and members discuss how ticket sales are affected by having fewer newspaper critics on the scene.  How can we harness the power of critical blogs?  Where else can we advertise if our local paper is going away?Moderated by Nick Manos (Theatre of the Stars).With Gordon Cox (Variety), Kevin Moore (The Human Race Theatre Company) and Denny Reagan (The Muny).
12 noon – 12:45 pm
Marketing to New Audiences
The Fox Theatre, Grand SalonHow can we use technology to market to the next generation of theatre-goers?Moderated by Michael Jenkins (Dallas Summer Musicals). With Brett Bernardini (Spirit of Broadway Theatre), Bill Borger (The Muny) and Jason Sheets (TravelZoo.com).
12:45 pm – 1 pm
Break
Walk to Renaissance
1 pm – 2:30 pm
Lunch
Renaissance Atlanta Downtown, Chastain Room
2:40 pm – 3:30 pm
Audience Participation: Creating an Interactive Experience
Renaissance Atlanta Downtown, Atlanta BUsing blogs, texting and online communities to break the fourth wall.Moderated by Nancy Gibbs (321 Theatrical Management). With Jason Cocovinis (Music Theatre International), Robb Hunt (Village Theatre), and Brisa Trinchero (The Broadway Rose Theatre).
3:30 pm – 4:20 pm
How to Make Your Website a Cash Cow Instead of a Money Pit
Renaissance Atlanta Downtown, Atlanta BDo you spend hours defending the money you need to spend to get a website that you can be proud of? Does everyone from your board to your Aunt Millie tell you they know someone who could do it better?
Are you paralyzed by the question – How does your website make money?Come to this "behind the digital curtain" session with the people who write the bids. And you can ask the questions that you were supposed to already have answers to. We will look at the difference a few thousand dollars can make in what your presence is on the web.Moderated by Arianna Knapp (Senovva, Inc.). With Lloyd Chrein (Chrein.com) and Marilynn Sheldon (The 5th Avenue Theatre).
Attendees
Attendees included executives from
321 Theatrical Management
Broadway Rose Theatre Company
Chicago Shakespeare Theater
Cumberland County Playhouse
Demos Bizar Entertainment
Gorgeous Entertainment Inc.
The Human Race Theatre Company
The Little Theatre on the Square
Lyric Theatre of Oklahoma
McCoy Rigby Entertainment
Music Theatre International
NC Blumenthal Performing Arts Center
Red Mountain Theatre Company
Woodminster Summer Musicals
This page was last updated on 02/23/2015