New Works Roundtable 2019
New or Known Content: Excellence Across the New Musical Development Spectrum
August 14, 2019
East Haddam, CT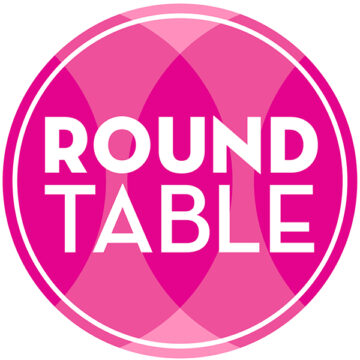 Many writers and producers are hoping for two things when developing a new musical: artistic excellence and commercial viability. Aiming to meet these two goals simultaneously can often feel like an overwhelming challenge—one that may be impacted by source material behind the story. How can we keep these two approaches central to our process when creating new work, regardless of whether or not a piece is an adaptation? At the 2019 New Works Roundtable, we'll explore ideas for how we can achieve excellence and viability, discuss how our approaches change when it comes to looking at adaptations of both beloved and less-known source materials, and consider the tension that may arise at the intersection of these two goals.
Following a morning of discussions digging into these questions, Roundtable attendees will attend Goodspeed Musicals' productions of Passing Through by Brett Ryback (Fest '16, Joe Schmoe Saves the World) and Eric Ulloa, and Because of Winn Dixie by Nell Benjamin (Fest '03, Sarah, Plain and Tall) and Duncan Sheik (Fest '15, Noir). Dinner, sponsored by Delaware Theatre Company, will be included and will feature a talk by a speaker to be announced.
Agenda
Wednesday, August 14, 2019 (All times ET )
9:00 - 10:00 am
Breakfast

The Terris Lobby
33 N Main St, Chester, CT

Get to know your fellow attendees before beginning the day's conversation over coffee and a light breakfast.

10:00 - 11:00 am
Adaptations Across the Spectrum: Commercial Viability

The Terris Lobby
33 N Main St, Chester, CT

What makes a musical commercially viable and is that changing?
What do we gain from source material when considering commercial viability? What advantages might an entirely original musical have that an adaptation lacks?
Logistically, how do we set ourselves up for success when we adapt from source materials? How do we secure rights, especially as the type of materials we can adapt expand (i.e. adapting podcasts)?
How do we get audiences interested in something they've never heard of before, regardless of whether it's an original or adapted musical?

11:00 am - 12:00 pm
Striving for Artistic Excellence

The Terris Lobby
33 N Main St, Chester, CT

Across the spectrum from adaptations to new works, what goes into creating a piece that is artistically excellent?
When working with known materials, how do we honor source material?
Do we give ourselves artistic leeway when adapting materials, or do we feel bound to faithfully recreate the source material?
How can we best support new musicals being developed from source materials not traditionally used in musical theatre?

12:00 - 2:00 pm
Lunch

The Terris Lobby
33 N Main St, Chester, CT

Boxed lunches will be provided, and attendees will be welcome to continue the morning's discussions or explore Chester, CT

2:00 - 5:30 pm
Passing Through

The Terris Theatre
33 N Main St, Chester, CT

5:30 - 7:30 pm
Dinner and Guest Speaker

Gelston House
8 Main St, East Haddam, CT

Dinner will feature a talk by guest speaker.

Sponsored by Delaware Theatre Company (Bud Martin, Executive and Artistic Director)

7:30 - 10:00 pm
Because of Winn Dixie & Post-Show Reception

The Goodspeed
6 Main Street, East Haddam, CT
Updated 6/6/2019. Subject to change.
Attendees
321 Theatrical Management
Nancy Gibbs
Producer
Boston Conservatory at Berklee
Neil Donohoe
Director, New Works Project
Cody Lassen & Associates
Cody Lassen
Producer
Delaware Theatre Company
Bud Martin
Executive Director
Delaware Theatre Company
Matt Silva
Executive & Artistic Director
Goodspeed Musicals
Anika Chapin
Director of Artistic Development
Goodspeed Musicals
Naomi Anhorn
Assistant Stage Manager
Goodspeed Musicals
Eric Ulloa
Goodspeed Musicals
Kristan McLaughlin
Artistic Administrator
Goodspeed Musicals
Erin Coffey
Manager of Audience Engagement
Goodspeed Musicals
Elisa Hale
Public Relations Manager
Goodspeed Musicals
Donna Lynn Hilton
Artistic Director
Goodspeed Musicals
Brielle Cayer
Goodspeed Musicals
Michael Fling
Artistic Associate
Goodspeed Musicals
Rachel Tischler
General Manager
National Alliance for Musical Theatre
Karin Nilo
Program Manager
National Alliance for Musical Theatre
Ciera Iveson
National Alliance for Musical Theatre
Betsy Militello
Executive Director
Philadelphia Theatre Company
Paige Price
Producer
Pittsburgh CLO
Avriel Hillman
CEO
Pittsburgh CLO
Mark Fleischer
Executive Producer
Popup Theatre Canada
Jim Aldridge
Producer
Popup Theatre Canada
Vinetta Strombergs
Director
Samuel French/Concord Theatricals
Abbie Van Nostrand
SVP, Client Relations and Community Engagement
Sharon Fallon Productions, Inc.
Sharon Fallon
Producer
Show Shepherd
Blair Russell
Board of Directors
Show Shepherd
Matt Schicker
Show Shepherd
Stageworks Productions
Sara Skolnick
Director of Acquisitions & New Work
Stageworks Productions
Sean Cercone
Founder/CEO
Theatre Under The Stars
Megan Larche
Associate Artistic Director/Director of New Works
Kathy Evans
Founding Executive Director
Hotel
Hotel
Join us at The Inn at Middletown, located a 20-minute drive from Goodspeed Musicals. Historic charm meets modern luxury at the Inn at Middletown. The hotel's award-winning services and welcoming staff take care of all your traveling needs. A recipient of the TripAdvisor Certificate of Excellence for multiple years, the inn offers up sumptuous New England fare at the Tavern at the Armory. Award-winning meeting and wedding planning sales department and is conveniently situated in the heart of town, only two blocks from Wesleyan University. Take a dip in the indoor heated pool, re-energize with a morning workout in our fitness center, take in the water views and unwind or wake up to an authentic New England breakfast.
To book your room, call the Inn at (860) 854-6300 and make reservations under the block name National Alliance for Musical Theatre.
Guests can also book online and receive our discounted rate by following these steps:
Go to www.innatmiddletown.com
Enter the appropriate dates and number of guests
Enter promo code: NAMT
Book by 7/29/19 to take advantage of NAMT's discounted price of $129/night on August 13 and 14. The hotel fills up quickly, so book your room today!
This page was last updated on 08/08/2019