Festival of New Musicals Submission Clinic Office Hours – January
January 6, 2023 3:00 pm to 5:00 pm ET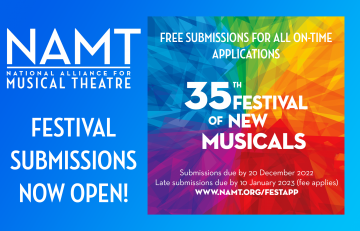 Submitting a show to the 35th Annual Festival of New Musicals? Do you have specific questions not covered during our info session or on our website? Drop in during our Submission Clinic, where you can address any outstanding submission questions one-on-one with a NAMT staff member. Sign in to our digital waiting room, and someone will be with you asap!
The Submission Clinic Office Hours will take place on Friday, January 6th from 3pm ET to 5pm ET. You may sign in and see a NAMT Staff Member at any time during this period as they are available to assist you.
Reminder, we are now accepting submissions for our 35th Annual Festival of New Musicals, which will take place on Thursday, October 26 and Friday, October 27, 2023 in New York City.
The first deadline, which allows writers to submit their musical for free, is Tuesday, December 20th (11:59pm ET).
The final deadline for all submissions is Tuesday, January 10 (11:59pm ET, late fees apply).
Enter Waiting Room!
This page was last updated on 01/05/2023