2014 New Works Roundtable
NAMT headed to Connecticut in November, 2014 to check out the world premieres of two new shows at Goodspeed Musicals! At the Summit, NAMT members and Festival of New Musicals alumni gathered to discuss developing new musicals while attending the world premieres of Irving Berlin's Holiday Inn and The Circus in Winter, from our 2012 Festival of New Musicals.
The New Works Summit was a great chance for us to see some great shows and discuss models and new trends in developing new musicals. At the Summit, members had the chance to see these two wonderful shows with other colleagues in attendance which made the exchange of ideas easily accesible with all of us in the same room.
Cost: The cost of attending the Summit was only $65, which included the Summit meeting, lunch, tickets to two great new musicals, dinner, a post-show reception and access to a discounted hotel room rate at a nearby hotel.
Agenda
9:30 am
Check-in at Goodspeed Rehearsal Studios in East Haddam, CT
Coffee and pastries provided
10:00 am
Getting to Know Goodspeed
The staff of Goodspeed Musicals will introduce you the development programs at their organization from residencies to world premiere productions.
11:00 am
Welcome to the Big Top!
The writers from The Circus in Winter will talk about the development of their new musical and being part of the process at Goodspeed Musicals.
12:00 pm
Lunch provided by Center Ring Theatricals
Followed by tours of Goodspeed Musicals new housing
2:00 pm
IRVING BERLIN'S HOLIDAY INNGoodspeed Opera House, East Haddam, CT
4:45 pm
Dinner at the Gelston House with special guests (tba)next door to the Opera House
Provided by Universal Stage Productions
6:45 pm
Depart for Chester, CT (twelve minutes down river)
Carpools will be arranged
7:30 pm
 THE CIRCUS IN WINTERat the Norma Terris Theatre in Chester, CT
Tickets provided by Goodspeed Musicals
10:00 pm
Post-show reception with dessert, coffee and champagne
Sponsored by Goodspeed Musicals
Shows
Irving Berlin's Holiday Inn
Music and Lyrics by Irving Berlin | Book by Gordon Greenberg and Chad Hodge | Produced in association with Universal Stage Productions and by arrangement with The Irving Berlin Music Company | Choreographed by Denis Jones | Directed by Gordon Greenberg
World Premiere!
Happy holidays! Check into the tuneful world-premiere musical about a Connecticut farmhouse transformed into a jubilant nightspot — but only on holidays. From Valentine's Day to the Fourth of July, Thanksgiving to Christmas, expect a cornucopia of hit songs by Irving Berlin in a dance-dizzy romance based on the classic film that first starred Fred Astaire and Bing Crosby. Raise a glass of cheer to "Happy Holiday," "Easter Parade," "Be Careful, It's My Heart" and more of the world's greatest show tunes.
See more about this show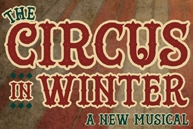 The Circus in Winter
Music and Lyrics by Ben Clark  | Book by Hunter Foster and Beth Turcotte  | Inspired by the novel by Cathy Day
A New Musical
Step right up for a brand-new musical where legend and lore collide under the big top.  Love, lust, betrayal and tragedy unfold in a series of interwoven stories that reveal the private lives of a death-defying acrobat, sideshow African queen, lonely circus owner, disheveled clowns and more. With a rootsy, folk/rock score, this is one musical that you must not miss!
See more about this show
This page was last updated on 06/22/2016