Home » Musical Theater Songwriting Challenge for High Schoolers »
Songwriting Challenge Eligibility & Guidelines

About the Musical Theater Songwriting Challenge for High School Students
Your musical journey awaits! Do melodies float through your mind? Do your daydreams unfold in rhythmic beats? The world of songwriting is calling you, waiting to be discovered. In collaboration with The National Endowment for the Arts, we are thrilled to present the Musical Theater Songwriting Challenge for High School Students.
The Musical Theater Songwriting Challenge for High School Students is an opportunity for high school students all across the country to develop and showcase musical compositions that could be part of a musical theater production. Submissions will be judged by a panel of leaders in the musical theater field — including NAMT members and Festival of New Musicals Alumni Writers, among others — who will select the Challenge's winning writers/writing teams. Those writers will be invited to New York City in June 2024 to work with mentors, culminating in a concert of their songs.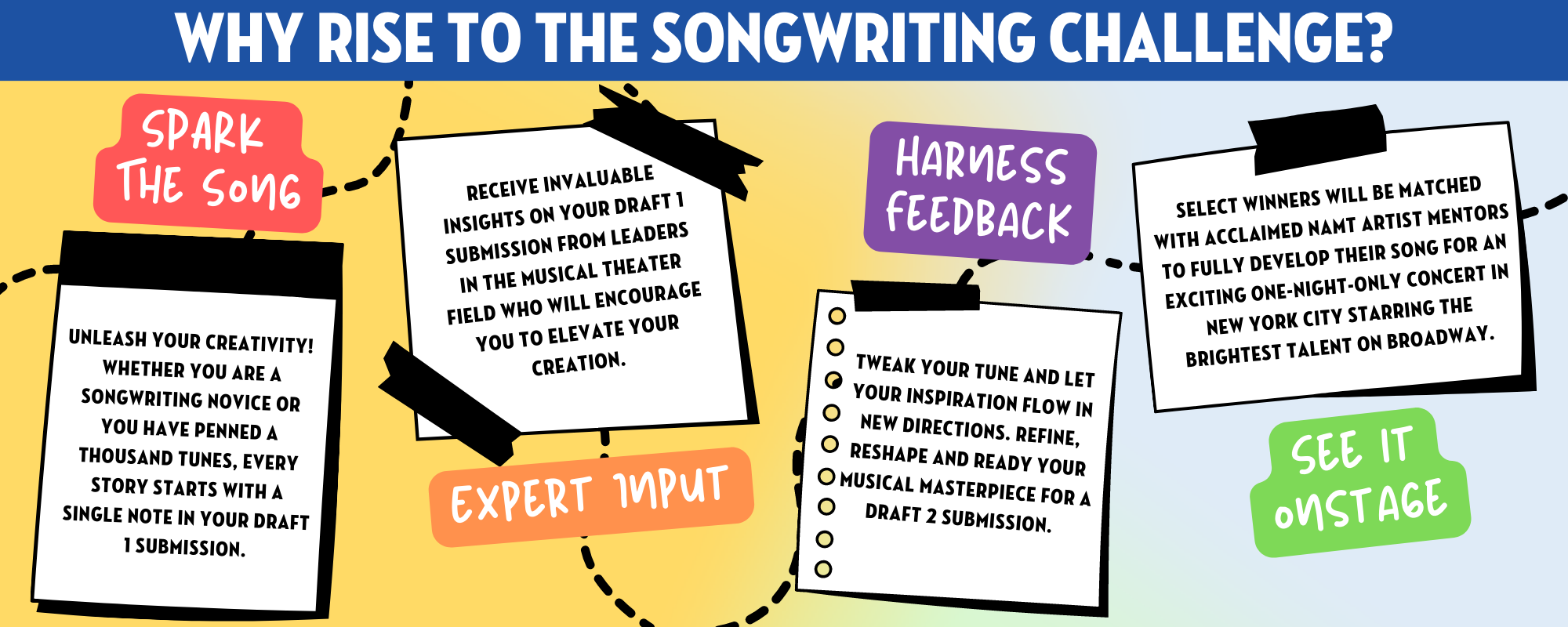 Eligibility & Guidelines
Who can Participate?
High School Students from all 50 States, Washington D.C. and U.S. territories are eligible.
Entry Requirements
Each Participant can submit one original composition tailored for a musical theater production. The full musical does not need to be written, but the student will be asked to justify the song as a storytelling moment as part of the larger hypothetical work.
Collaborative entries (duos) are accepted, but both members of the team must meet the age and schooling requirements.
Entries must be the wholly original work of the entrant(s) and should not infringe on any copyrights or any other rights of third parties.
General Guidelines
The National Endowment for the Arts (NEA) and the National Alliance for Musical Theatre (NAMT) advocate for creativity, originality and artistic expression. Any form of plagiarism will lead to disqualification.
Submissions will undergo a rigorous review process. Feedback will be provided to all participants to foster growth and development.

Draft 1 submissions will receive feedback only. Draft 1 submissions will be eligible to submit a second Draft incorporating feedback.
Draft 2 submissions will be entered into the competitive round and will be considered for the NYC Winners Weekend & Mentorship prize.
Students are not required to submit for the Draft 2 Round, but only songs that have been submitted to Draft 1, incorporated feedback, and resubmitted to Draft 2 will be considered for the Winners Weekend.
Students must have submitted Draft 1 by the posted due dates in order to be eligible to participate in Draft 2.
What's Not Allowed
Remixes or covers of existing work.
New works that sample or include stems/tracks from existing work.
Songs promoting hate, discrimination or any form of offensive content.

Submission Process & Timeline
The Songwriting Challenge has a two-part submission process. Draft 1 submissions will acquire feedback only. After receiving responses from industry professionals, students may then revise their submission for the Draft 2 competitive round. Students must submit a Draft 1 entry and incorporate that feedback in Draft 2 in order to be eligible for the Winners Weekend in NYC.
Draft 1 Submission
Key Dates: Open September 07, 2023 | Close December 4, 2023
Receive Feedback
Once submitted, experts from the musical theatre industry will listen to your song and provide constructive feedback. All songs will be reviewed 4-5x.
Draft 2 Submission
Key Dates: Open February 1st 2024 | Close March 4th, 2024
Competitive Evaluation
This time, our entire panel of NAMT Members, Educators, Alumni Artists and more will evaluate your song's potential, originality and overall quality.
Winners Weekend
Key Dates: Est. June 21-26 for selected Songwriting Challenge winners
Evaluation Components
Draft 1: Cultivating Growth
Song Construction: Does your song have meaningful, creative structure?
Lyrical Imagery: Is the text captivating and evocative?
Melody & Rhythm: How memorable and engaging is your tune?
Narrative Strength: Does the song support a storytelling moment or convey strong emotions?
Character & Plot Development: How effectively does the song progress the story or character arc forward?
Draft 2: Celebrating Excellence
Song Evolution: How well have you incorporated feedback from Draft 1?
Artist Statement: Does your vision shine through this song?
Moment Definition: How have you justified the song's significance in the overall story and arc of the character?
Technical Proficiency: Are the lyrics, music, character building and plot mechanics working excellently?
Overall Impact: Does the song leave an indelible mark on the listener?

Winners Weekend
Your musical journey peaks in the city that never sleeps!
Intensive Mentorship
Student winners will be paired with esteemed NAMT artist mentors for focused songwriting sessions, honing their composition to professional standards and learning about process, technique and production.
Debut on the Big Stage
The highlight of the weekend is a special concert in NYC where Broadway talents perform the winning songs, captivating an audience of industry professionals and theater enthusiasts.
Beyond the Notes
The experience isn't just about the songs! Network with on-and-off stage insiders, catch a Broadway show, and fully immerse into the vibrant theater district.
Ready to go?
Submit Now
This page was last updated on 09/06/2023