Home » Festival & Concerts »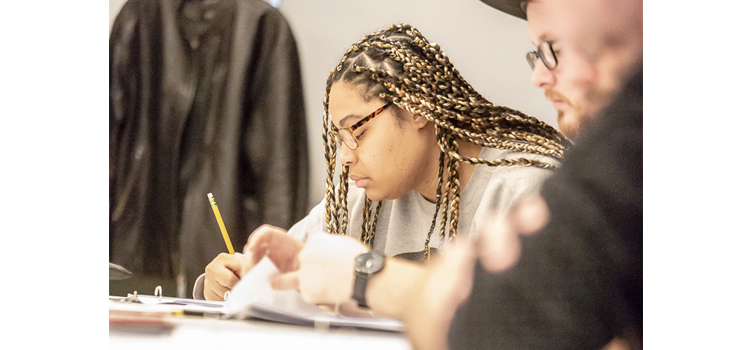 Festival Observership for Early-Career Directors
Program Overview
In line with NAMT's strategic plan, we are thrilled to announce the return of our Festival Observership for Early-Career Directors for the 31st Annual Festival of New Musicals.
To encourage and expand diversity in the musical theatre pipeline, a key point of NAMT's strategic plan, this program will provide these opportunities specifically for:
Directors of color
Directors with disabilities
Women directors
LGBTQ directors
All who self-identify with one or more of these categories and consider themselves early-career directors are encouraged to apply for the program. While not a requirement, we suggest applicants have at least one professional assistant directing credit.
The observership will invite eight early-career directors with a demonstrated interest in musical theatre to be a part of the NAMT Festival process from start to finish. The selected observers will gain first-hand exposure to the new musical development process, learning the techniques that established directors employ while working with writers to bring a new musical to life. In addition to joining the Festival process, the selected observers will receive a Premiere Pass to the Festival, an invitation to NAMT's Fall Conference (typically open only to NAMT members), a small stipend, and an exclusive chance to be introduced to the NAMT membership, made up of some of the world's leading musical theatre producers, prior to the Festival. Additional networking opportunities will be announced at a later date.
Key Dates:
Applications due: June 16, 2019 at 11:59pm
Interviews: Early August, 2019
Festival Rehearsals (approximate): October 14-23, 2019
Fall Conference: October 22-23, 2019
31st Annual Festival of New Musicals: October 24-25, 2019
Q&A
Who is eligible to apply for this program?
In line with NAMT's newest strategic plan and as part of our continuing efforts to increase diversity and promote inclusiveness within the musical theatre industry, this program will specifically be open to diverse, early-career directors who are traditionally underrepresented in the industry. NAMT will be accepting applications from early-career directors who self-identify with one or more of the following diversity categories: directors of color; directors with disabilities; women directors; and LGBTQ directors. Any director who identifies with at least one of these categories and considers themselves an early-career director who holds a demonstrated interest in musical theatre is encouraged to apply for the program. Non-US citizens are welcome to apply.
What is expected of the observers once they have been selected?
Observers are expected to do just that—observe! Once an observer has been selected, they will be added to all directing-related Festival emails for the show they are observing. As the majority of pre-Festival work is done via email, there is a great deal to glean from observing these communications.
Observers are expected to be present for all rehearsals for their Festival shows. Rehearsals will take place beginning as early as October 14 though October 23, but will not be solidified until writer and director schedules are confirmed. As such, observers should hold the two weeks prior to the Festival in their calendars. During rehearsals, some directors may ask their observers to serve as an assistant, but for the most part observers should expect to simply observe the rehearsal process. Additionally, prior to the start of rehearsals, NAMT will hold a welcome event to give observers a chance to meet each other and the NAMT staff.
During the week of the Festival there will be a number of events that observers will be expected to attend. Observers will have the chance to attend a variety of panels the NAMT conference around their rehearsal schedules; during the conference, observers will be introduced to the NAMT membership, providing a chance to meet the membership prior to the Festival. Observers will receive premiere passes to the Festival and will be expected to attend both days of the Festival.
How will the final eight observers be selected?
Once the application for the observership has closed, the NAMT staff will review applications and schedule half-hour interviews with semi-finalists. Interviews will be held over the course of two days in early August and will be conducted by NAMT's New Works Director Ciera Iveson, NAMT's Program Associate Karin Nilo and another member of the NAMT network (TBD). Observers will be chosen based on demonstrated investment in the future of musical theatre, ability to discuss theatre in a thoughtful manner and demonstrated commitment to a future in directing.While not a requirement, we suggest applicants have at least one professional assistant directing credit.
Will housing be provided if I don't live in New York?
Unfortunately, NAMT is unable to provide housing in New York City for the duration of the Festival process. All selected observers must secure their own housing in New York City.
Who has directed shows for the NAMT Festival in the past?
A number of Broadway directors have helmed presentations at the NAMT Festival (for example, Stephen Brackett, Stafford Arima, Christopher Ashley, Marcia Milgrom Dodge, Sarna Lapine, Lonny Price, Rebecca Taichman), as well as directors of major regional theatre programs (Victoria Bussert, Joe Calarco, Jerry Dixon, Kent Gash, Kent Nicholson, Peter Rothstein) and directors with extensive off-Broadway and regional careers (May Adrales, Sam Buntrock, Marlo Hunter, Schele Williams). The full Festival history, including past directors, can be found here.
Who can write my letter of recommendation for the program?
Your letter of recommendation can be written by anyone who works in the theatre industry who can attest to your commitment to pursuing a career in directing, and ideally can discuss your interest in musical theatre specifically. The letter of recommendation should speak to you as an artist and attitude in a rehearsal room. Letters from teachers, mentors, directors, actors, designers, etc. that you have worked with are all good options. Don't worry about asking your most esteemed contact to write the letter–instead ask someone who will be able to write most clearly to your strengths.
Do I have to be a member of NAMT to apply for this program?
No! This program is open to all early-career directors who self-identify with any of the diversity categories listed above.
Additional Questions?
Email Program Associate Karin Nilo (karin@namt.org) if your question wasn't answered here.
Applications for the 2019 Festival of New Musical Observership are closed. Please check in next summer for information about our next round of applications!
Header Image by Ric Kallaher; 2018 Festival Observer Tai Thompson in rehearsal for AD 16, directed by Stephen Brackett.